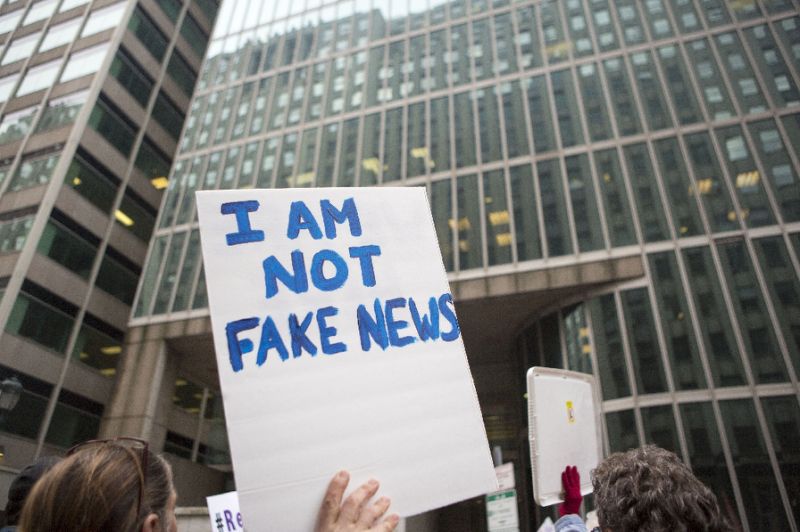 ---
Social media has been playing an active role in shaping the daily lives of many across the globe. According to the 2018 Global Digital Report, there are 3.2 billion people worldwide using social media platforms such as Facebook, YouTube, WhatsApp and Twitter. In Pakistan, 35 million people, or around 18 per cent of the country's population, is active on social media.

People not only use social media platforms to make personal and professional connections but also as a significant news source, getting their news directly or indirectly through their social connections. At the same time, we have seen the rise of fake news stories, or stories that are false and intentionally fabricated to mislead users. Some recent examples include Begum Kulsoom Nawaz's death hoax that went viral on social media within a short time. The spread of fake news stories on social media is not just a nuisance but may actually be used to manipulate the beliefs and actions of users.

One unique aspect of social media platforms, such as Facebook, is their ability to create individual user profiles based on users' personal data — for instance, user's location, interests, behaviour and political leanings. The recent Facebook-Cambridge Analytica data scandal shows how such data can be used to influence public opinion. The scandal involved the collection of personal data of up to 87 million Facebook users, which was allegedly used to influence voters in the US elections and the UK's Brexit vote via targeted advertisements and fabricated content. In fact, following the magnitude of social media's influence on internal political matters of other countries, Mark Zuckerberg of Facebook stated that it is one of his top priorities to prevent interference in elections in various countries, including Pakistan.

To what extent are Pakistani users affected by fake news? Can fake news affect the upcoming Pakistani election? To answer these questions, a survey was conducted to study the demographic characteristics of users vulnerable to fake news on social media in Pakistan. We assess the level of awareness regarding fake news and whether the users initially tend to believe in news that later turn out to be false.

The data was collected from a sample of 1,025 respondents who broadly represent social media users in Pakistan. Male respondents comprised 61 per cent of the total whereas female respondents 39 per cent. Approximately two-thirds of the respondents are pursuing or have completed their undergraduate degrees and are under 35 years of age.

The findings reveal some striking findings regarding the users' vulnerability to fake news. Around 91 per cent of the users are well aware of the fake news dilemma, whereas 75 per cent of these users say that they also verify their sources before sharing news online. However, this does not necessarily translate into more discerning users, as 82 per cent of those who verify their sources say that they have believed a story that later turned out to be false.

Around 65 per cent of the users between the ages of 16 and 34 rely on Facebook, Twitter, blogs and other online sources for their news. This proportion reduces to 43 per cent for users above 35, who are more likely to rely on newspapers or TV as a major news source. These users are, therefore, less likely to fall prey to fake news as compared to users who rely on social media.

A significant proportion of Pakistani youth of voting age as well as young future voters are using online social media platforms to learn and spread news about social and political issues, and they are most likely to be influenced by fake news stories. These findings are quite alarming when viewed against the backdrop of the recent National Human Development report. The NHDR report states that given our current demographics, the youth are the most important vote bank for any election until the year 2045. Nearly one out of every two registered voters is between 18 and 30 years of age with more than two-thirds of the youth expressing their intention to vote in the upcoming election.

To meet this challenge, it is important that social media users, particularly the younger lot, are sensitised about the fake news problem. Given that many users have heard about fake news but are not necessarily aware suggests that information about the way fake news is targeted and spread on social media platforms should be highlighted and widely discussed in the national discourse. Celebrities, social personalities and political leaders can play a role by spreading awareness on TV, newspapers and online media as the institutions can play their own role.

Pakistan can also learn from data regulation frameworks such as the European Union's General Data Protection Regulation (GDPR), which are designed to protect user information. Fake news is often presented to a selected class among the users on the basis of observation of their preferences and political viewpoints. The personal information available to fake news generators depends on the privacy policies of social media platforms. Data protection regulations, such as General Data Protection Regulation (GDPR), empower users by giving them control of their personal data, making data use more transparent. This can significantly limit the generation of individually-customised fake news, as violations can lead to heavy fines.

In conclusion, the fake news phenomenon is a tough problem to address and is likely to stay around for a while. However, identifying the most vulnerable audience is a first yet important step towards developing a deeper understanding of this challenge.

Published in The Express Tribune, July 8th, 2018.

Like Opinion & Editorial on Facebook, follow @ETOpEd on Twitter to receive all updates on all our daily pieces.

 


COMMENTS
Comments are moderated and generally will be posted if they are on-topic and not abusive.
For more information, please see our Comments FAQ