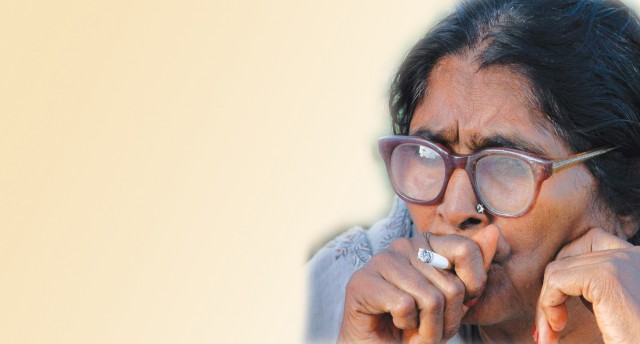 ---
ISLAMABAD: The government has failed to implement its non-smoking laws and does not provide adequate support to people who wish to quit smoking, said Dr Faridullah Shah, a senior doctor at Polyclinic hospital in Islamabad on Sunday.

According to figures released by Ministry of Health, there are about 25 million smokers in Pakistan.  Moreover 1200 youngsters below the age of 18 start smoking everyday in the country, said Director General Tobacco Control Cell (TCC) Yusuf Khan in an interview with The Express Tribune.

Another survey of a representative sample of 18,135 Pakistanis (aged 15 and above), carried out between 1990-1994 (National Health Survey of Pakistan), concluded that 15.2 per cent of Pakistanis smoked. Men in their 40s smoked the most, with an estimated prevalence of 40.9 per cent, while the prevalence of smoking in women was much lower at 3.4 per cent. Only individuals who had smoked at least 100 cigarettes were classified as smokers in the study.

"Ministry of Health has failed to [adequately implement] anti-smoking laws," said Dr Shah. He quoted the examples of the non-implementation of anti-smoking law in government offices. High officials, he said, continue to smoke indoors. All government and private offices in the country are non-smoking zones as per law.

The disregard for government's anti-smoking law also extends to public areas including markets, bus-stops and hospitals, Shah added. "No one dares to ask a smoker to not smoke for the fear of being reprimanded [by others around him]," he said.

TCC Director General Yusuf Khan admitted that government officials were violating the anti-smoking law. "We write letters to the government offices requesting them to obey the rules [but to little effect]," he said.

The government has also failed to provide adequate support to the people wishing to quit smoking. "There are no rehabilitation centres for smokers in the country where they can get free of cost anti-smoking medicines and psychotherapy," Dr Shah said. The price of nicotine gums and anti-smoking pills in Pakistan is much higher than a pack of cigarettes.

"I agree that there are no smoke cessation facilities in the country and [that the ministry] never worked on this," Khan acknowledged. He cited lack of resources and low priority assigned to such a facility as the major reason for its non-existence.

Published in the Express Tribune, May 31st, 2010.
COMMENTS (1)
Comments are moderated and generally will be posted if they are on-topic and not abusive.
For more information, please see our Comments FAQ