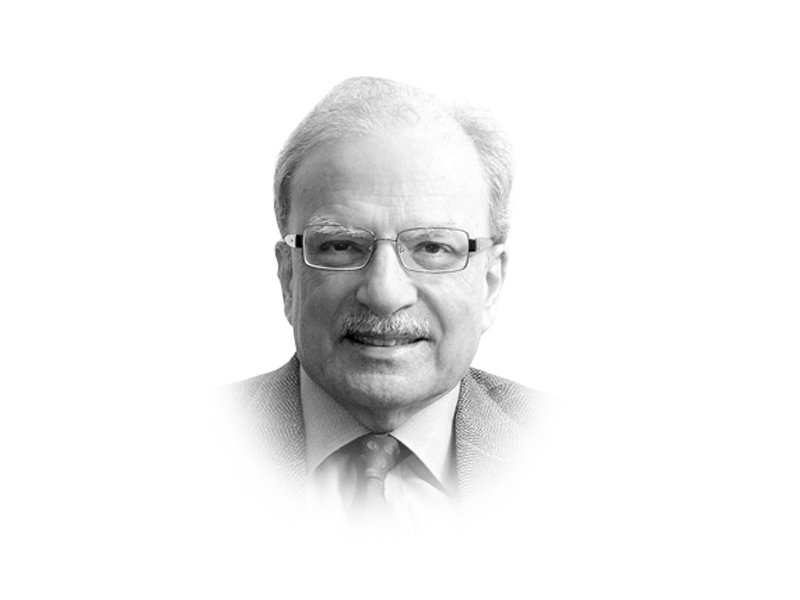 ---
One way of looking Pakistan's developing political system is to count the number of people who can be classified as strong men and the number of years during which they were able to hold power. My count is eleven such leaders and they ruled for a total of 60 years out of almost Pakistan's 71 years. It is interesting to note that only four of these men were from the military while the remaining seven were civilians. Among the latter, three were bureaucrats-turned-politicians while the remaining four were politicians. The military was in power for a total of 33 years. What does this arithmetic suggest? Is the rule of strongmen in Pakistan's political DNA? How much of what has happened is the result of thinking in the developed part of the world? These are important questions to ask as Pakistan heads towards general elections. It is very likely that the 2018 poll would set the stage for future developments.

On many occasions, Pakistan's moves towards non-democratic rule were in accord with popular political thinking or with the interests of foreign powers for whom the country was vital for strategic reasons. I will take only one example from history to underscore the point about the impact of foreign thinking on Pakistan's political development. When General Ayub Khan intervened in politics, several important political and economic analysts had come to the conclusion that the newly independent states in Asia and Africa needed strong hands to hold the reins of government. For instance, Gunnar Myrdal in his profoundly wise book Asian Drama had developed the notion of "soft states" to explain the continuing backwardness of emerging nations. In a conversation I had with President Ayub at his Islamabad residence in January 1974, I asked him if his thinking on politics was influenced by the Swedish scholar. He said it was Altaf Gauhar who headed the information office in his government who told him about the work of Myrdal. Gauhar was then helping Ayub Khan write his political biography which appeared under the title of Friends, Not Masters while he was still the president.

What kind of influences are at work on Pakistan at this important moment in the country's political progress? This is a period during which momentous changes are taking place in global politics and in the style of governance. Both developed and developing parts of the world are affected. Ideas travel across international frontiers. For instance, the Turkish election on June 24 that changed the system of governance from the parliamentary to the presidential will have important consequences not only for that country's future. It may also have influence on countries such as Pakistan that are still engaged in developing their political systems. There is little doubt that the United States' Donald J Trump is impacting on the political development of several rich nations in Europe.

The way Donald J Trump was handling the United States presidency has created fear among many quarters that the unpredictable and maverick American leader may be pushing the country towards authoritarian rule. This year saw a boom in books with titles such as How Democracy Ends and The People vs. Democracy. There was a great deal of anxiety expressed by many column writers in the mainstream American press as well as by the members of the policy community. For instance, James P Pfiffner, a professor at George Mason University, wrote in a Brookings Institution blog that "Trump's refusal to admit the truth of widely accepted facts corrodes political discourse and is consistent with the practice of many authoritarian leaders." Trump's narcissistic and demonstrably false statements about politics and policy, Pfiffner wrote strike "at the very heart of democracy."

There has been an alarming deterioration in the popular support for democracy in rich countries following the 2007-09 Great Recession. That downturn hurt many segments of societies and there is a growing impression that the political systems are dominated by the elite who look after themselves, not caring for ordinary people. The Economic Intelligence Unit has estimated that 89 countries have regressed in the last few years compared with only 27 improving. This trend contrasts sharply with remarkable progress in the second half of the 20th century. "In 1941 there were only a dozen democracies; by 2000 only eight countries had never held an election. A broad poll of 38 countries shows that typically four out of five people prefer to live in a democracy." That sentiment is changing with the rise of Donald Trump, an important contributor to the process of regression.

The way Trump behaved during the summit of the Group of Seven rich nations — the G7 — held in Quebec, Canada, in early June showed his disdain for democratic rulers in Europe. He called Justin Trudeau, the Canadian prime minister, weak and dishonest. This he did while flying from Canada to Singapore to attend the United States-North Korea summit. He was enthusiastic about his encounter with Kim Jong Un, the 33-year-old North Korean dictator, he had earlier called the "little rocket man." According to Trump, the summit's outcome was "a very great moment in world history." After the face-to-face meeting, the American president gushed about Kim's qualities. His enthusiasm about the North Korean leader confirmed the American president's strong preference for authoritarian rule.

Will the politically weak countries such as Pakistan escape this trend and continue to move forward towards democratic governance? Some lessons can be drawn from nations such as Malaysia and South Africa that have pulled back from authoritarian rule. First, institutions matter. An independent judiciary and a free press are important in keeping in check any latent desire for strongman rule. Second, rampant corruption and self-indulgence by powerful elite create a strong preference for inclusive governance. This is the case in particular among the youth that desire good governance. For these reasons I believe that the democratic system in Pakistan will continue to evolve.

Published in The Express Tribune, July 2nd, 2018.

Like Opinion & Editorial on Facebook, follow @ETOpEd on Twitter to receive all updates on all our daily pieces.
COMMENTS
Comments are moderated and generally will be posted if they are on-topic and not abusive.
For more information, please see our Comments FAQ