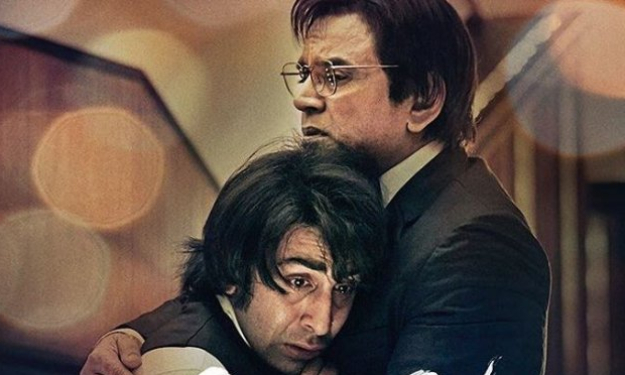 ---
KARACHI: There is no hard and fast rule that a biopic must be completely truthful. Fictionalised accounts of famous personalities have often made for good entertainment. Taking cue from this, Rajkumar Hirani tries his best to portray Sanjay Dutt's complex and controversial life in his latest outing, Sanju. However, the director seems to be giving the Bollywood superstar closure, justifying his decisions and portraying him with a kind of reverence, rather than offering a raw depiction of him with a critical eye.

Sanju takes us through multiple phases of Sanjay's life and the several people that came into it. Paresh Rawal plays his father Sunil Dutt and Manisha Koirala his mother Nargis. Dia Mirza returns as Sanjay's third (and current) wife Maanyata and Vicky Kaushal plays Kamlesh, the actor's real-life best friend Paresh Ghelani. And of course, Ranbir Kapoor essays Sanjay himself.




The film begins with Sanjay approaching biographer Winnie Diaz (Anushka Sharma), a fictional character, to tell his story as he is set to go to prison and the film follows her as she digs into it. It may not be Hirani's best work but it's hard to deny the ace film-maker's ability to craft a story. It's also hard not to shed a tear when you see Sanjay trying to be his own man in the shadows of his father's legacy, struggle with his mother's loss, heartbreak and so, make decisions that haunt him later. Hirani successfully creates empathy for the protagonist and allows one to connect with him on an emotional level.

Manisha Koirala perfectly channels Nargis Dutt in 'Sanju'

However, Sanju's biggest strength also becomes its biggest weakness. One sees traces of Hirani's reverence for Sanjay and thus, voids the latter of responsibility to some extent. But overall, it paints the fan favourite Munna Bhai star as a realistically flawed, yet compassionate human, rather than a superstar. And that's what the audience cares about.




Hirani shows full command on dialogues and direction. He perfectly balances humour and sorrow, joy and tragedy. It's nothing short of amazing how smoothly the director manages to blend it all without compromising on honesty.

Yet, his chaptered story-book structure leaves much to be desired. It undermines the chapters' interconnections and leaves some threads hanging. These chapters are marked by clear indications and it almost feel like Hirani is ticking off a checklist of the events in Sanjay's life, which makes it easy for one to grasp the timeline but doesn't always give a complete and layered view.

Fortunately, the excellent direction and heartfelt depiction of Sanjay and Sunil's relationship more than make up for it. The father and son's fight in Sanju isn't against one another but the Indian media, which fabricated and exaggerated stories about Sanjay to sell assumptions as facts and added to the actor's controversies. The dissemination of unproven allegations as facts in the media, no matter how much it stings, is true not only to India but the whole world. Therefore, the film makes a valid point against the irresponsibility of news agencies in shaping public perception.




Ranbir is in full form here, as always. Although it's initially difficult to believe in him as Sanjay because of his well-known face and familiar style of acting, he involves you with his performance with each passing scene. He channels Sanjay in look, body language and dialogue delivery but also retains that signature Ranbir element too. Here is an actor who has, once again, proved he is far superior to others of his generation. Sanju marks one of Ranbir's finest performances to date, second only to perhaps Rockstar.

5 lesser known facts about 'Sanju'

Paresh, a seasoned actor himself, is equally effective as the strong-willed and loving Sunil. Scenes between him and Ranbir make the highlights; their chemistry is impeccable and the emotions they channel are honest and an apt tribute to the late Mother India star. Manisha, in her brief appearance, leaves a mark too. Jim Sarbh boosts his stock as Sanjay's money-hungry drug-dealer friend Zubin Mistry and Vicky is a gem I'm personally happy to see rise higher with each film.

Early on in, Sanjay tells Diaz, "meri kahaani aap ki waat laga degi [My story will make you crazy." Through this, Hirani is giving the audience a teaser of what is to come and rightly so. I'd avoid calling Sanju entertaining because it would reduce Sanjay's life to a mere show. But it definitely takes you on an emotional roller-coaster and that, in one way, is a big victory in itself.




Verdict: Consider this the big Eid blockbuster we deserved to see two weeks ago. Sanju hits it out of the park!

Rating: 4 out of 5 stars

Have something to add to the story? Share it in the comments below.
COMMENTS (1)
Comments are moderated and generally will be posted if they are on-topic and not abusive.
For more information, please see our Comments FAQ