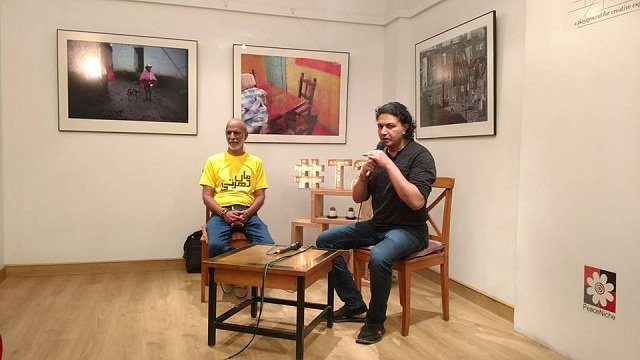 ---
KARACHI: Temperatures in the bustling metropolis of around 27 million people soared up to 45° Celsius only a month ago which reportedly claimed more than 65 lives.

To overcome such tragedies, an ambitious project, 'Maa Dharti Project' [Mother Earth Project], was launched Tuesday evening at The Second Floor (T2F) with an aim to mitigate some of the most pressing environmental issues faced by the city.

A three-month long series of seminars and community-led projects seeking to educate the residents of Karachi on the many ways they can save the environment and live a healthy life for generations to come, the initiative is the brainchild of Pakistani musician and T2F Executive Director Arieb Azhar, who has partnered with environmentalist Tofiq Pasha for the project.

Some of the diverse sets of topics that will be covered in the weekly seminars include spreading awareness on simple and effective ways to plant trees, conserving water, recycling garbage, restoring air quality, establishing vegetable gardens and safeguarding mangroves - all part of an effort to promote civic responsibility towards saving the planet.

'Green gold': Pakistan plants hundreds of millions of trees

"T2F is a platform for culture and culture is not complete unless it goes hand in hand with nature as eco-culture," said Azhar in his opening remarks at the first seminar, 'Karachi Monsoon, 2018 Tree Plantation - One Step Towards Repair', of the Maa Dharti Project.

"Today, more than ever before, we need to realise that the survival of all living species - flora and fauna - is connected with the survival of our own species," Azhar said.

Addressing a jam-packed room, comprising the young and old alike, Pasha, also popularly known as 'mali or the gardener', commenced the seminar by saying, "People are concerned about the environment now because changes to it are affecting their lives."

He added: "This planet is a living being; just like we are ... it has everything we have in our body. We breathe and she gives air. We have blood and she has water."

What is happening to Karachi, he said, are two things that has brought us Karachiities to the knees.




"Firstly, around a 100 people died this year and 3,000 more died three years ago. Global warming is a huge factor contributing to this," remarked Pasha.

"Summer started earlier this year and instead of having good weather for most of April, we had to face severe heatwaves in the mid of April and even the end of March was hot," he said. "We are having longer summers now. They start earlier, end later and every year it is becoming even hotter than it was the year before."

Historically, Karachi has experienced such high temperatures some 40, 80 and 100 years ago, he said, adding that it had even happened once eight years ago, but it was now happening for the past three summers which was indicative of a repetitive process. "Secondly, the way we are expanding our city and adding close to a million people to Karachi every year," said Pasha, "is only resulting in overpopulation that is fuelling crises in housing, road traffic, extensive land use and use of fossil fuels - all factors heating up our environment."

Pakistan sets world record by planting over one million mangroves

"We need to take ownership of our parks. But how many [parks] are [even] left for this huge population of 27 million people … only 270 parks. Are they enough?" Pasha asked. "There is a lot of space and we need to reclaim it," he commented.

As per Pasha, we need to first identify a place, make a team, plant trees and send pictures to him to make this campaign a success.
Pasha invited people to ask questions about the trees they want to plant on his Facebook page - Tofiq Pashas World.

Some tips

Guiding the audience through some tips on planting, Pasha said, "Don't plant a young sapling in the scorching sun. Give the young plant adequate water and good soil conditions so that it grows well." Initially, water it daily, dig a three feet deep pit and enrich the soil with nutrients so that there is enough room and food for the young tree to survive., he added.




While giving away free seeds and tree saplings to plant, Pasha requested the audience to join him on a mission to plant 27 million native and indigenous trees such as Kikar, Jamum, Amaltas, Cordia, Neem, Pipal, Bargad, Lignum and Gulmor across the city. These, according to Pasha, are needed to be planted in order to overcome the years of biodiversity loss and ecological damage inflicted by planting invasive and non-native species like the eucalyptus and conocarpus.




"We have lost all our biodiversity. I want our children to grow up and see birds which aren't just crows. We used to have parrots, mynahs, koels and sparrows too and the older generations were able to see woodpeckers which are now nowhere to be found because we've lost our biodiversity in Karachi," he reminisced.