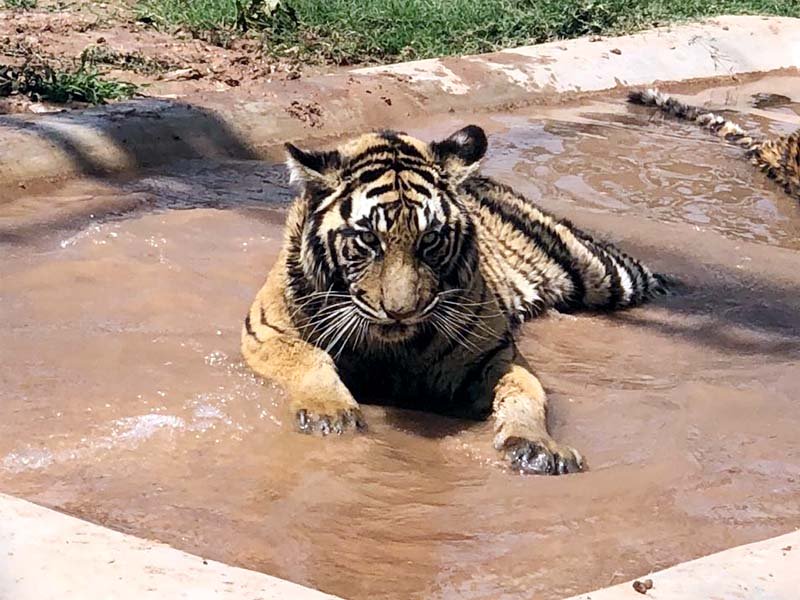 ---
PESHAWAR: The attractions at the Peshawar Zoo got an exotic boost on Monday when two pairs of Bengal tigers arrived.

The zoo is also due to get an African elephant and a giraffe soon.

A zoo official told The Express Tribune that as many as six Bengal tigers have been brought from a breeding centre in South Africa.

Asked about the large number of animals brought over, the officials said that they were brought over to counter possible mortality.

Eid recreation : Peshawar zoo gets large number of visitors

"The change of environment could cause death [of the animals] and once the two pairs are settled in their new environment, the extra pair will be returned to South Africa," he said.

"We have ordered an African elephant and a giraffe as well," he informed.

It is worth mentioning here that the newly established Peshawar zoo is notorious for the deaths of animals. As many as 40 animals have died at the zoo since its inauguration in February this year.

Critics blame the poorly constructed cages and lack of facilities in these cages for the animals.

Over the Eidul Fitr holidays, as visitors thronged the facility, they were shocked to find animals in poor state owing to the heat and the absence of any facility to offer them any respite.

"There is no tree in the newly established zoo which is why there is no shelter for the animals from the scorching sun. There should be properly constructed water pools in each cage as well as rooms or caves made of mud to shelter them against the heat and weather," said an employee of the zoo while talking to The Express Tribune.

Watch: Common leopard gives birth to 'four cubs' at Peshawar Zoo

"Room coolers should also be arranged in the summer but the administration did not pay any attention to it and as a result, many precious animals have been lost," the employee said while requesting anonymity.

"A precious snow leopard was lost due to bad weather and lack of proper facilities in the zoo," he lamented, adding that a common leopard gave birth to four cubs of which three have died.

Published in The Express Tribune, June 26th, 2018.
COMMENTS
Comments are moderated and generally will be posted if they are on-topic and not abusive.
For more information, please see our Comments FAQ