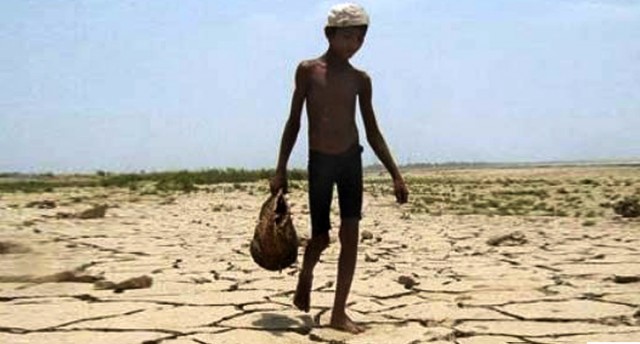 ---
KARACHI: Water has not been released downstream Kotri for more than eight months, forcing thousands of people to move from Thatta and the areas around the Indus Delta to other parts of Sindh, said environmental experts at the eighth meeting of the Indus Ecoregion Steering Committee (IESC) at the Sindh department of planning and development. The government must release the water to save communities across the region, they added.

More than two million acres of land in Thatta and Badin have been submerged in seawater, which is corroding the coastal belt and destroying fertile land because water is not being released downstream Kotri, said World Wildlife Federation (WWF) official and Indus for All Programme coordinator Nasir Ali Panhwar.

The shortage of water has affected the entire province but the Indus Delta, that was once famous for its red rice, has been affected the most and is now in a miserable state, said forest and wildlife secretary Mushtaque Memon. The water shortage has also affected the natural habitat and wildlife in Sindh, it was observed at the meeting.

The Indus for All Programme has been initiated at Keti Bunder, Keenjhar, Chotiari and Pai to survey the existence of wildlife and natural habitat in the area, said WWF regional director Dr Ghulam Akbar.

The programme is organising workshops to seek consultation from the people living in the area as well as other stakeholders for the revision of the Sindh Wildlife Ordinance 1972.

Solar energy projects are being developed and the system has already been provided to 20 communities in Keti Bunder and Keenjhar.

The district government is also working with the communities to implement livelihood development plans. A number of projects, such as the establishment of mill chillers at Pai, the management training of fishermen at Keti Bunder and Chotiari and the vaccination of livestock at Chotiari and Pai, have also been carried out.

Meanwhile, conservation and information centres have also been constructed at Keenjhar and Chotiari to create awareness among visitors, students and researchers.

Published in the Express Tribune, May 31st, 2010.
COMMENTS
Comments are moderated and generally will be posted if they are on-topic and not abusive.
For more information, please see our Comments FAQ