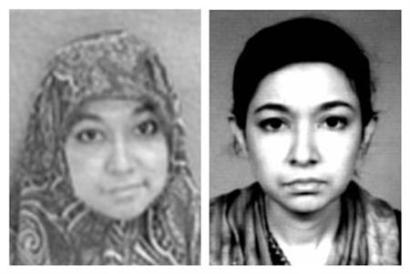 ---
ISLAMABAD: A confidential report prepared by Pakistan's consul general in Houston, United States of America, of her visit to Dr Aafia Siddiqui claimed that she was subjected to physical and sexual abuse during her ongoing detention.

Consul General Aisha Farooqui visited Aafia at the Federal Medical Center in Carswell, Texas. The report recommends diplomatic authorities to take up the case at the highest levels to find a way for her repatriation so that she can serve her remaining sentence in Pakistan, where her modesty and privacy would not be interfered with.

Aafia's sister Fowzia Siddiqui submitted the report of the consul general's May 23 meeting with her.




The report presents details of the miserable state of Aafia, who is being detained, and details of her struggles to protect her dignity, integrity and respect paint a different picture altogether.

It is recommended that a detailed note be sent to the US Department of Justice for an inquiry into the allegations of physical and sexual abuse Aafia spoke of. CG Farooqui also suggested suggested a formal request to be made to the US Department of Justice to restrict male staff members into her unit and to ensure her safety.

Aafia has accused the male staffer of urinating on her possessions.

CJP to hear petition seeking repatriation of Aafia Siddiqui

"Explore a legal mechanism for her repatriation to Pakistan to complete her sentence in Pakistan, where at least she would be safe and would be able to meet her mother and children, who she has not met in almost eight years," the report further recommends.

During her two-hour meeting, Farooqui stated, she saw Dr Aafia's nervousness and phobias, and fear of everything and everyone at the facility. It was clear that she was afraid of the jail staff, their violations of her privacy, repeatedly confiscation of her things, the rampant threat of physical and sexual abuse and institutionalised rape and bisexuality that she claimed existed at the FMC Carswell.




"For a practising Muslim woman to be incarcerated in a facility where there was an existential threat of being raped and sexually abused repeatedly is an untenable situation and should not be allowed to continue. In spite of all this, I found Dr Aafia determined, hopeful and full of faith in Allah and Pakistani people that there will be help sent for their daughter specially and that sooner rather than later she would get out of the prison," CG Farooqui wrote in the report.

Report further reveals that Aafia has no confidence in the New York-based lawyers engaged by her sister. She requested the consul general to tell her family to replace her legal team as soon as possible.

"In her opinion, only her previous attorney, Tina Foster, could be relied upon as she was sincere and was also Muslim. She was also the one who got her son Ahmed out of the secret prison in Afghanistan."

Aafia also alleged that jail authorities confiscated her belongings. Her phone calls to family members were recorded and monitored. When asked why she did not call her mother in Karachi, Aafia said she didn't feel comfortable talking to her in the presence of the jail staff.

Aafia also expressed mistrust that jail authorities dialed inaccurate phone numbers on purpose. She suspected that it wasn't her mother or family on the other end of the line.




"She repeatedly told me she was constantly disturbed in her room and her privacy was consistently violated by jail staff who harassed her, threatened her and attempted to sexually abuse her as well on a number of occasions. Jail staff, including her case supervisor Annie Noblett, barged into her room, confiscated her belongings and made fun of her and even snatched her scarf off her head," the report read.

"Her belongings were often missing she was of the view that there could be some drugs given to her which made her incoherent and not in her senses like on the three occasions when had visited her previously," CG Farooqui wrote in the report.

Aafia also accused personal assistant to Pakistan's former ambassador to the US Husain Haqqani, of siphoning off the $2 million allocated by the government of Pakistan for trial in 2010.

Pakistani diplomat rubbishes rumours of Aafia Siddiqui's death

Aafia further described Haqqani as unhelpful and uninterested in her case. She stated that this was public money which had been taken by the two. She further categorically stated unlike the misconceptions about her association with banned organisations, Aafia had little to do with slain al Qaeda chief Osama bin Laden.

About her written submission to the judge for not filing an appeal against her sentence in 2011, Aafia said she did it because she was not expecting justice from the same judge in the appeal, while additionally claiming that her case was "lost in the US Supreme Court" due to the incompetence of her lawyers. She asserted that her trial was a sham.




When CG Farooqui asked Aafia if she would like her mother and sister to visit her, she refused by saying, "Please don't bring them here". Aafia also stated that she tried profusely to stay true to her religion and its practices, but termed her detainment center as severely unhygienic and alleged that she was given unclean materials and detergents.

Aafia also alleged that her case supervisor and two others attempted to rape her in February. The CG also mentioned that Aafia didn't want to be photographed in jail. However, she wrote a short message in Urdu for her mother which is also attached to the report.

Fowzia while submitting the report, lamented that she was extremely upset while reading the report and requested the SC to make it part of the case proceedings.

On June 7, the apex court asked the federal government to find out within three days whether Dr Aafia is still alive or otherwise. According to Fowzia, the government has failed to submit anything in this regard.

On February 3, 2010, a US federal court in New York found Dr Aafia guilty of two counts of attempted murder, armed assault, using and carrying a firearm, and three counts of assault on US officers and employees. She was sentenced to 86 years in prison.
COMMENTS (4)
Comments are moderated and generally will be posted if they are on-topic and not abusive.
For more information, please see our Comments FAQ