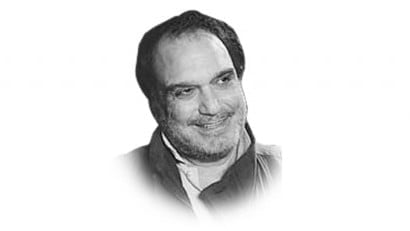 ---
A Lahore lawyer Khwaja Muhammad Sharif travelled to the Philippines and the UK in 1995 and carefully recorded his observations during the tour. His jottings became the book that appeared titled Shakh-e-Nazuk kay Ashiyanay (Nests built on a Weak Branch) published by Kausar Brothers Publishers, Turner Road Lahore. Fifteen years later, he is the Chief Justice of the Lahore High Court.

The great lawgiver of Athens Solon (638 BC–558 BC) travelled "to be able to theorise". The motive was wisdom rather than information. The travelogue of Khwaja Sharif is clearly a testament of wisdom, as it reveals the traveller too. Khwaja Sharif the lawyer is clearly a man of great personal piety and deep commitment to his country.

But he is no Oliver Wendell Holmes. He wrote the book as he travelled, jotting down each detail of the day. Like all lawyers, he lacks style, such are the requirements of hurried prolixity in the profession. His narration of personalities (rijal) is immaculate and starts as he boards the plane for the UK. The steward was a cousin of PMLN's Suhail Zia Butt who was in jail then (p.64). Captain of the plane was a Qizillbash from Lahore. His host was Sultan Sahib of Birmingham, an old Nawa-e-Waqt journalist, whom he had never met before.

The London journey is a linear description of calling on expat Pakistanis at their homes who regaled Khwaja Sahib with food. In fact, the cataloguing of food is so persistent that each page has him eating twice or thrice, which seems abnormal. On page 79, Afzal Butt, of Sheranwala Gate, gave him cold lassi followed by chicken-tikka, daal and chicken curry, taken with extra-large tandoori roti. On page 84, he feels sleepy, and by page 93 he has a tooth ache. By page 152, he is positively ill after eating qima wali roti and has to take pills. On page 191, he is laid low by Khalid Butt's samosas.

There are parallels to Ibn Battuta's "rihla" (travelogue) in which Battuta judges alien societies on the basis of the conduct of their women. In 1826, Egypt's ruler Muhammad Ali sent a brilliant scholar Tahtawi to Paris to study government there. Tahtawi wrote up his long "rihla" praising most of what he saw in France but judging its morality on the basis of its women. At least on three different pages, Khwaja Sharif observes and regrets the way the women of England do bos-o-kinar (petting) with men in public.

The climax is Khwaja Sahib's meetings with Mian Shehbaz Sharif living in exile in London. Khwaja Sahib, who had been president of the Lahore High Court Bar Association, had written to him to return and lead the campaign of struggle (Tehreek-e-Nijat) against the PPP government (p.226). On page 121, Shehbaz Sharif got him over to his apartment and, you have guessed it, regaled him to a lavish meal, giving him chun-chun kar botian (selected pieces of meat) with his own hands. Later they had ras-malai and ras-gulla too, with a box of sweets to accompany Khwaja Sahib as he left. Shehbaz Sahib also offered him money, which he declined, but once out of the apartment he realised he had eaten too much (p.122).

There are photographs in the book. It may be just an illusion but one feels that Khwaja Sahib has put on a lot of weight by the end of his journey. He was too obliging a guest to refuse hospitality; otherwise he could have refused to eat kharbuza after he had had his fill of alu-bukhara from the back garden of one Chaudhry Sharif. On his way back he ran into Ishaq Dar Sahib at Heathrow, also in exile because of the rascalities of the PPP, come to see off his children.

Published in the Express Tribune, May 31st, 2010.