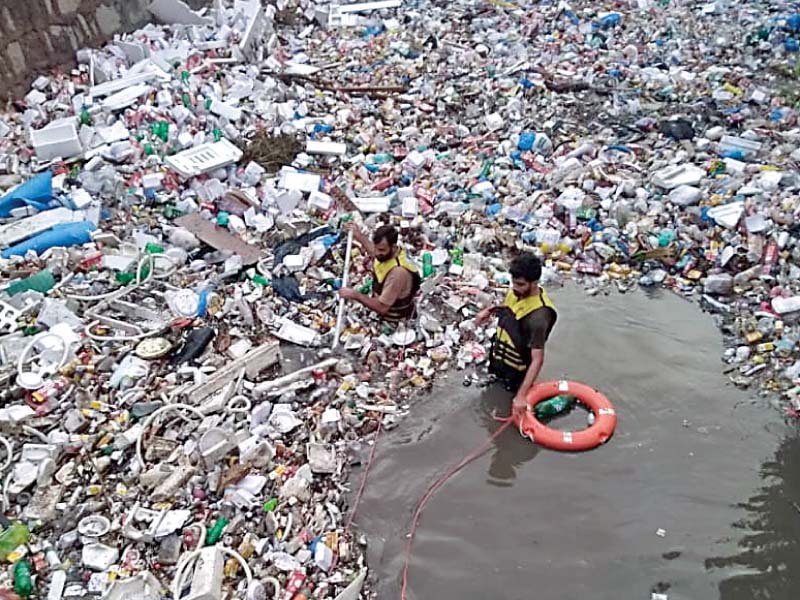 ---
ISLAMABAD: Rescue workers have recovered the bodies of two people, who along with three others were reported drowned in Rawalpindi's Nullah Leh on the eve of Eidul Fitr.

A search operation, which was launched on Friday evening, continued through on Monday as rescuers continue to search for the remaining three bodies.

Rescue officials told The Express Tribune that on Friday after a thunderstorm swept through the twin cities of Rawalpindi and Islamabad, they had received reports that as many as five people had drowned in the massive drain. Two of them, teenagers, had reportedly drowned in a stream in the Dhoke Banaras area while three others had reportedly drowned in the Nullah Leh near Dhok Khabba.

Army captain dies in road accident in Khuzdar

"It is not clear whether they were swimming in the stream at the time or accidentally fell in and drowned," a spokesperson for Rescue 1122 said.

Rescuers, though, managed to retrieve the bodies of the two people who had drowned in the Dhoke Banaras area on Monday, after four-day-long search and rescue operation in which 20 rescuers took part.

The victims were identified as local youngsters 19-year-old Noman and 13-year-old Rehan Masih. Rescue workers found Noman's body near Dhoke Lal Shah while Rehan's body was recovered from the stream near the Raja Akram Colony.

One of the two bodies recovered was spotted by rescue workers after it had floated to the surface. To recover the other body, rescue workers had to dive into the water to locate and retrieve it.

The bodies were later handed over to their families for their final rites.

A rescue official said that all three people who reportedly drowned in the Nullah Leh near Dhoke Khabba are said to be children. But thus far, rescue workers have had little luck in finding their bodies.

"At least 20 rescuers, using five boats, took part in the operation which started on Friday and is still under way. The rescuers canvassed the Nullah Leh in boats and where travel by boat was not possible, they walked through the water in areas where the drowning was reported all the way down to Sawan River," the spokesperson said. 

Published in The Express Tribune, June 19th, 2018.