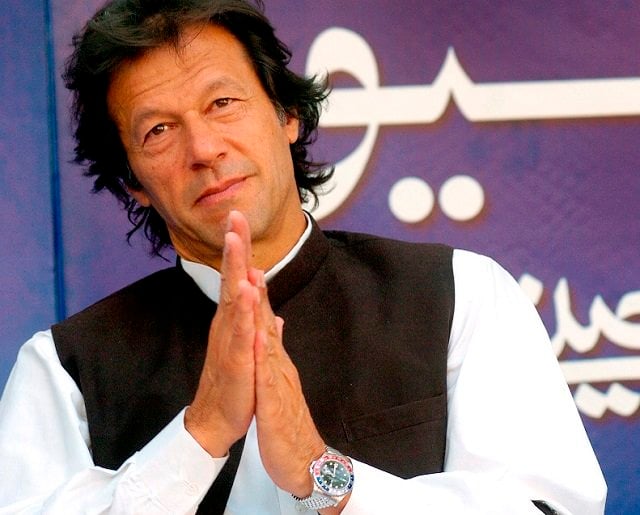 ---
KARACHI: Speaking to a private TV channel, Pakistan Tehreek-e-Insaf (PTI) chief Imran Khan has said that he disagrees with the Western 'feminist movement'.

Khan claimed that the movement has contributed to 'degenerating' motherhood.


The feminism movement in the West has 'degraded' the role of a mother Imran Khan? Really?! #PTI pic.twitter.com/UwIpEeADil

— Bilal Farooqi (@bilalfqi) June 17, 2018


The remarks of PTI chairperson were deemed 'anti-women' and drew a social media backlash.

The twitteratis perceived such comments as highly 'irresponsible' and criticised Khan on his lack of knowledge of the ideology and movement.


Imran Khan's views on feminism show his utter lack of understanding of the issue. He should ensure he is better briefed or not speak on issues he has little knowledge and awareness of.

— Abbas Nasir (@abbasnasir59) June 17, 2018


https://twitter.com/AimenBucha/status/1008312008658358272


Feminism is literally what secured paid maternity leave for mothers in most of Europe and the world (so they could better care for their children), but I guess it's more useful to spout ignorant anti-feminist rhetoric to pander to your conservative base. https://t.co/bLaUxXWxVN

— Ammar Rashid (@AmmarRashidT) June 17, 2018


Khan was accused of having lack of consideration for the gains (right to vote, run for office) of Women Suffrage Movement which also resulted in feminist movements across the globe demanding equal rights to life in a society. Commentators termed the remarks as a major disappointment.


#Feminism has never looked down on motherhood. Feminists have worked in every country to create paid leave and laws to protect mothers & safety nets so mothers dont leave work to care for kids. Educate yourself #ImranKhan @ImranKhanPTI

— Séphora (@valkyrie786) June 17, 2018
If Imran Khan thinks motherhood is the most cherished and valuable role for women, maybe PTI could've worked to make life better for mothers and not opposed the 2016 Protection Against Domestic Violence Bill so much.

— Amna Khan (@amnaukhan) June 17, 2018
Twitter today: An army of not terribly well read folk, who have never been west of Sargodha, lecturing us on the shortcomings of motherhood in the West

— Talat Aslam (@titojourno) June 17, 2018


When contacted, the party's media spokesperson didn't respond to the questions The Express Tribune asked regarding the controversial statement, saying that 'he is unaware of such a statement made by the party chief'.
COMMENTS (8)
Comments are moderated and generally will be posted if they are on-topic and not abusive.
For more information, please see our Comments FAQ