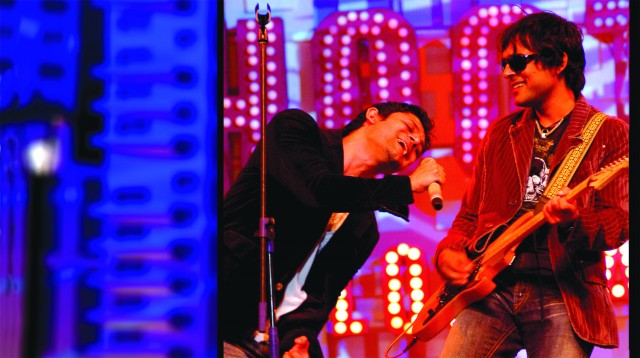 ---
10 years ago, the musical landscape of Pakistan - and the way musicians were promoted - changed for the better.

Fans of the band that they had thought defunct were stunned to see billboards bearing the images of Bilal Maqsood and Faisal Kapadia gracing the skyline. The album the duo released that year - Duur - went on to become a massive phenomenon, and it was hard to find an Indian television channel that wasn't blaring the first single off the album, "Duur". The way the album and the videos were promoted and made propelled musicians to up their game, and the near-defunct music scene saw the birth, in the years to follow, of bands such as Noori, Jal and EP.

10 years, several Bollywood songs and collaborations and high-profile corporate deals later, Strings are set to make yet another splash.

The band is teaming up with Atif Aslam for a song titled, "Ab Khud Hi Kuch Karna Paray Ga".

With hundreds of comments rolling in on music discussion forums online, the song and its video is eagerly awaited by their fans.

Faisal Kapadia told The Express Tribune, "The song is basically about the current situation of Pakistan. It is our expression of whatever we feel. This is a patriotic song and this generally the requirement of the times (we live in)."

"The video is being shot in Karachi and the director is Jami. We have recorded the song."

Jami has directed several Strings videos, including "Duur", "Anjaane" and "Humsafar", which was shot in Moscow.

Flashback

Originally a quartet of four college students from the Government Commerce College in Karachi, Strings made a comeback in 2000 after eight years with two of its former members - Bilal Maqsood and Faisal Kapadia. It was after their return that the band got international acclaim with its songs in national and international top charts.

After a single massive success of "Sar Kiye Yeh Pahaar" in 1992, their comeback album Duur was an instant hit and received heavy airplay in Pakistan and India.

The band has won four MTV Music Awards, two Lux Style Awards, three The Musik Awards and three Indus Music Awards. Another groundbreaking achievement was their nomination as torch bearers for the 2008 Olympic Games.

Published in the Express Tribune, May 31st, 2010.