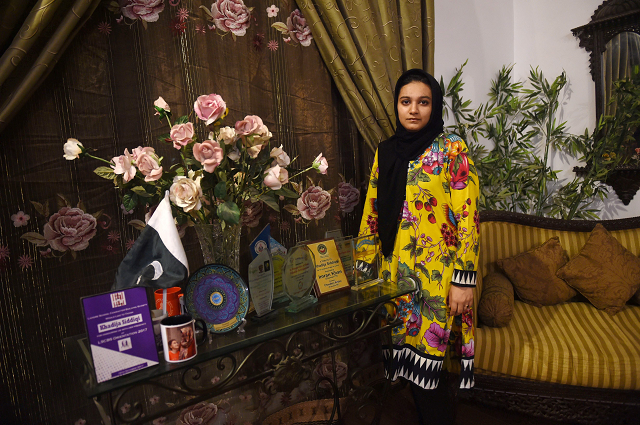 ---
LAHORE: A  law student has emerged as a women's rights crusader after she was stabbed 23 times in a busy street only to see her alleged attacker walk free, igniting outrage across the deeply patriarchal country.

Khadija Siddiqui, 23, survived the frenzied attack in broad daylight outside her sister's school on a busy thoroughfare in Lahore in May 2016.

Her sister was also injured as she tried to defend her, and the brazen attack only ended when her driver managed to pull the assailant off and rush Siddiqui to a hospital, where she was admitted to intensive care with her neck slashed, her arms wounded, and a deep injury to her back.

Siddiqui named her attacker as Shah Hussain, a classmate whom she had rejected romantically. He was convicted and sentenced to seven years in prison in July 2017.

But Hussain, the son of a prominent Lahori lawyer, appealed the decision--and in a shock judgement was released on June 4, the Lahore High Court acquitted him on all charges.

SC accepts appeal against Shah Hussain's acquittal in Khadija stabbing case

The decision was greeted with an uproar in the country.

"I was shocked," Siddiqui, who spent three weeks in hospital after the attack and whose back still pains her, told AFP. "But unfortunately it was true."

Siddiqui's long struggle to put her attacker behind bars had already drawn attention from women's rights campaigners, but when Hussain walked free it unleashed a wave of anger.

"I am heartbroken, speechless, shattered after hearing what our judiciary system did to you @khadeeeej751 - But do not give up , keep fighting, and we shall overcome this together," tweeted actress Urwa Hocane.


I am heart broken , speechless , shattered after hearing what our judiciary system did to you @khadeeeej751 - But donot give up , keep fighting , and we shall overcome this together ! Strength and more strength your way ! 💔 Justice for #KhadijaSiddiqi

— URWA HOCANE (@VJURWA) June 5, 2018


Hamza Ali Abbasi commented: "We must all unite & be Khadija's voice & leave no stone unturned to get her justice against this barbarian! #WeAreWithKhadija".
The hashtag was trending within hours of the acquittal.


WHAT THE HELL? I am hearing that attacker of #KhadijaSiddiqi who stabbed her 24 times has been acquitted by Lahore High Court???? If this is true, then we must all unite & be Khadija's voice & leave no stone unturned to get her justice against this barbarian! #WeAreWithKhadija pic.twitter.com/BimkvEK8Z5

— Hamza Ali Abbasi (@iamhamzaabbasi) June 4, 2018
It was Khadija's battle till yesterday. Khadija you did your job well. Today you didn't lose - it was society that lost. So it is battle of the society now. The hashtag In Support of khadija is #WeAreWithKhadija plz use this. We will fight back - we will fight the Mafia pic.twitter.com/yp8cHWPdNq

— Hassaan Niazi (@HniaziISF) June 4, 2018
Justice Sardar Naeem. This is the name of the judge who acquitted Shah Hussain. Remember this name when you're cursing everything wrong in this country.#WeAreWithKhadija

— Faizan. (@thoraoffbeat) June 4, 2018

The reaction intensified when the court's judgement was released, with critics accusing it of "victim-blaming" after it poked holes in Siddiqui's credibility.

The judgement questioned why she did not name Hussain as her attacker immediately, despite testimony saying she had fallen unconscious; and noted that at one point prior to the assault she had written a letter proposing marriage to him.

The outcry was so great that the Supreme Court has now taken up the case and will hold hearings later in the summer, it announced Wednesday.

Hashmi, Hussain's father, has told AFP that his child is innocent. "My son is a brilliant student," he said. "How can he be a criminal?"

Siddiqui's case highlights how Pakistan's judicial system fails women, says Hina Jilani, a leading lawyer and human rights activist.

The young law student is lucky in that she received high-profile support and it came to the Supreme Court's attention, Jilani says-- but that is rare.

"There is a prejudice against women," she argues.

Violence against women has remained "pervasive and intractable" in 2017 in Pakistan, according to a yearly report by the country's Human Rights Commission.

It documented thousands of reported violent incidents including rapes, assaults, sexual harassment, acid attacks, murders, and even four examples of "stove burning"--understood to be when a woman is taken into a kitchen, covered in kerosene and set alight; then the perpetrators claim she was burned by the stove.

The real figures, the commission said, are likely to be much higher.
Many cases of violence against women are not reported to authorities. In rural areas, such cases often bypass the formal justice system and are dealt with by village 'jirgas' or councils, often in a manner that is punitive for women.

But even for those cases which do enter the court system, the conviction rate is "below one percent", says Rabeea Hadi, an activist with the Aurat Foundation, a women's rights watchdog.

Khadija stabbing case: Appeal against LHC decision to be heard by Justice Khosa

In cases of domestic violence and sexual abuse, it is "almost zero", adds Anbreen Ajaib, the executive director of another women's rights group, Bedari.

Siddiqui says women, including herself, are often pressured to drop their cases and can face blackmail and harassment.

But she is determined to see hers through, and says the attention it has received has prompted many women to contact her to say they, too, are encouraged to stand up for themselves.

"I have been told by the prosecutors... that I'm probably the first woman who is fighting so hard to get justice," she told AFP, sounding calm and confident.

"It has proved that if women fight, they can turn things around, so they should never give up... they should not tolerate injustice, violence and blackmail."
COMMENTS
Comments are moderated and generally will be posted if they are on-topic and not abusive.
For more information, please see our Comments FAQ