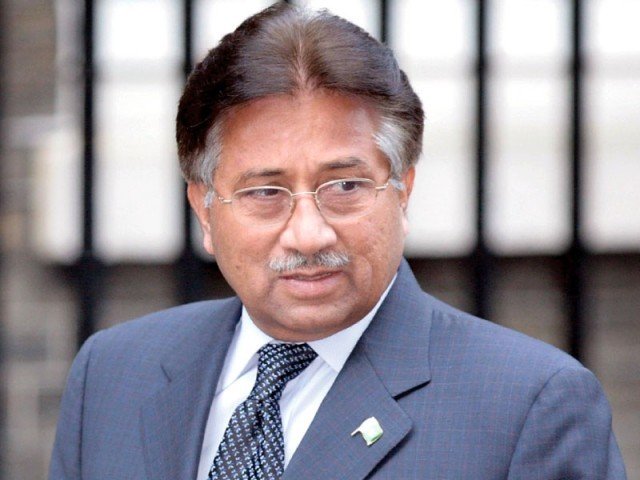 ---
LAHORE: The Supreme Court withdrew the interim relief it allowed to former military ruler Pervez Musharraf, permitting him to submit his nomination papers, after Musharraf failed to appear in court on Thursday.

A four-member bench, headed by Chief Justice of Pakistan Mian Saqib Nisar, passed the order during the hearing of the case at the Supreme Court's Lahore registry. Justice Sheikh Azmat Saeed, Justice Umar Ata Bandial and Justice Ijazul Ahsan are also on the bench.

Before withdrawing the interim order, the CJP asked Musharraf's counsel Malik Qamar Afzal if his client would appear before court or not.

Musharraf's lawyer replied that he (Musharraf) would not be able to appear.

Musharraf files nomination from NA-1 Chitral

Afzal said that he had personally contacted Musharraf on phone at 11am on Thursday and asked him about his return, but Musharraf had told him that although he wanted to come back, he was unable to because of various reasons.

He quoted Musharraf as citing Eid and unspecified 'present circumstances' as reasons for his inability to return and urged the court for more time.

In response, Chief Justice Nisar remarked: "Then we (the court) withdraw the earlier interim order, allowing him to file nomination papers."

When Musharraf's lawyer contended that his client had assured him about his return, the bench insisted upon knowing a specific time and date. The lawyer was unable to specify the timeframe. Later, the court adjourned the hearing indefinitely.On Wednesday, the CJP had made it clear that if Musharraf did not appear before the court by 2pm on Thursday a decision would be taken about his eligibility in absentia.

Last week the Supreme Court had allowed Musharraf to file nomination papers for general election if he personally appeared before the court on June 13.

The court, however, made it clear that his nomination papers would be subject to the final outcome of the case.

Subsequently, Pervez Musharraf had submitted his nomination papers for Chitral's NA-1 seat through his attorney, but he did not appear before the SC even after the court had ordered authorities concerned to unblock his CNIC and passport.

In a previous proceeding, the CJP had also assured Musharraf that he would not be arrested as soon as he landed and be allowed to appear in court for the hearing of his disqualification appeal.

When Musharraf's lawyer insisted that his client was willing to return to Pakistan and face all cases but he should be provided guarantees of protection.

This irked the Chief Justice, who remarked: "The court is not bound to accept his (Musharraf's) terms … We have already made it clear that he would not be arrested (on his arrival)."

"Why is a commando like Musharraf so terrified?" the CJP said sarcastically, reminding the lawyer of his client's repeated boastful remarks.

During his tenure, Musharraf insisted that he was a commando and feared no one. On other occasions, Musharraf was caught saying that he fought wars and escaped death several times but he never felt frightened.

"If Pervez Musharraf is a commando, he must return to the country instead of … parroting like a politician about his return, the CJP said.

Musharraf can conditionally file nomination papers, says SC

"He didn't feel a shred of fear when he was taking over this country (through a military coup), the CJP remarked.

"What does Musharraf need protection from (now) and what is he so afraid of?", the CJP asked. "He (Musharraf) must come to court if he is a [real] commando," he further remarked.

"We have already said that if Musharraf returns, he will be provided with (adequate) security. We are not bound to also provide (him) a written guarantee in this regard," Justice Saqib Nisar said.
COMMENTS (2)
Comments are moderated and generally will be posted if they are on-topic and not abusive.
For more information, please see our Comments FAQ