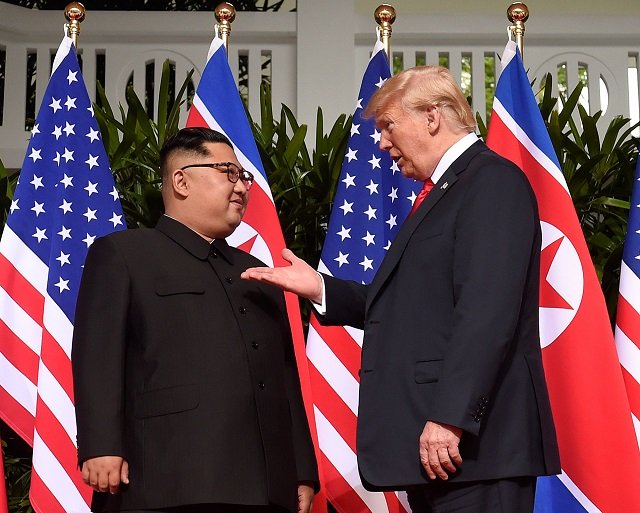 ---
United States President Donald Trump left Kim Jong Un frowning after he apparently cracked a joke at the North Korean leader asking photographers to make the two leaders look 'thin and handsome' before their working lunch at the historic Singapore summit on Tuesday.

"Getting a good picture everybody? So we look nice and handsome and thin, and perfect," said the US president to photographers and cameramen covering the event.

[/fbvideo]

Trump, Kim formed 'special bond' in historic meeting

The camera then rolls back, in the video of the moment that has gone viral on social media, and shows Kim as he listens to the translation. Reacting to the remarks, Kim looked let's just say not bursting with joy as camera zoomed in on his face.

The clip went viral with one Twitter commentator comparing the episode to an awkward scene from "The Office", a hit British comedy series that was later reproduced in the US.


Not too sure about this remake of the Office https://t.co/4tmLXRskzD

— Alan White (@aljwhite) June 12, 2018


One user drew comparison with another hit TV show "Curb Your Enthusiasm".

https://twitter.com/hijakejohnstone/status/1006448468028686337

A Pakistani Twitter user called it the best thing on internet.

https://twitter.com/91Shahji/status/1006415765082427393

It doesn't appear as if Kim missed the joke as Trump's remarks can be seen being translated by an interpreter present on the occasion.

Trump calls De Niro 'very low IQ individual' for Tony Awards outburst

This is not the first time Trump aimed a joke at his North Korean counterpart as the US president also taunted Kim in November last year, saying he would never call him "short and fat".


Why would Kim Jong-un insult me by calling me "old," when I would NEVER call him "short and fat?" Oh well, I try so hard to be his friend - and maybe someday that will happen!

— Donald J. Trump (@realDonaldTrump) November 12, 2017


Interestingly, the incident comes after the White House made headlines last month for releasing a commemorative coin which featured a slimmer-looking Trump head to head with a rather larger Kim.