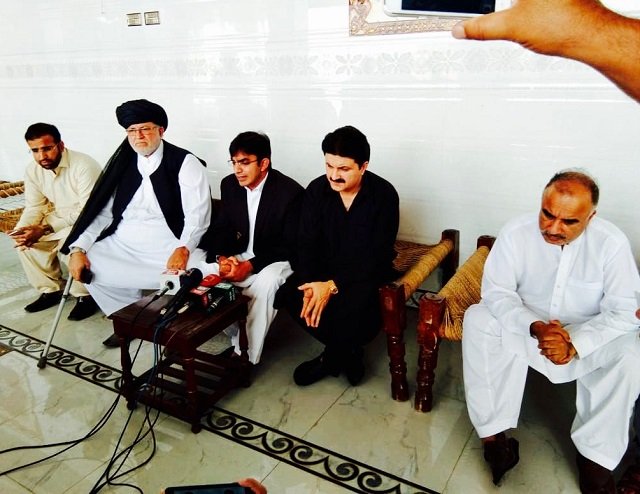 ---
PESHAWAR: The Pashtoon Tahaffuz Movement (PTM) has decided to cancel its upcoming protest rally in Razmak after Eidul Fitr and drop anti-army slogans following a successful meeting between members of the provincial jirga and PTM representatives.

The government and members of PTM met at the hujra of the government jirga member Shah Jee Gull in the provincial capital on Tuesday.

Malak Khan Marjan, Ajmal Wazeer, former provincial information minister Shah Farman and PTM member Mohsin Dawar attended the jirga. PTM member Ali Wazir could not make it to the provincial capital. He was, however, taken on board via telephone.

PTM activist expelled from North Waziristan

After negotiations, PTM's Dawar announced that they will not hold their gathering scheduled for the third day of Eid in Razmak.

Dawar, however, demanded that the many PTM activists, who were being held in custody of state institutions and in other internment centres, should be released.

These included a large number of activists who were arrested in Islamabad and those rounded up in Wanna, South Waziristan.

The North Waziristan district administration has already barred Dawar from entering the district for three months, allegedly instigating people through provocative speeches.




Dawar is considered a threat for peace in the area, as evident from an official statement issued last week indirectly calling Dawar an anti-state actor for speaking against the state and its institutions.

"We'll continue to raise our voices till the brutalities against us continue," he added.

On Sunday, the district administration of South Waziristan banned all rallies, processions and public gatherings in the area for a month.

Marjan, who has been representing the government in the talks with PTM, said that the PTM leadership has also assured them that they will no longer raise anti-army slogans.

"PTM has assured it will avoid using anti-army slogans in its [PTM] protest demonstrations as well as gatherings," Marjan said, adding that the jirga members have decided to hold another sitting on June 22.

Dozens arrested for anti-state slogans 

"Yes, we have collectively decided that another sitting of the jirga between the PTM and the government will be held on June 22 so that we can proceed further," Marjan hoped.

The jirga members representing the government, also known as the Apex Committee of Khyber-Pakhtunkhwa (K-P) and comprising politicians and local elders, was formed in April for holding talks with the PTM. The jirga included the K-P governor and chief minister.