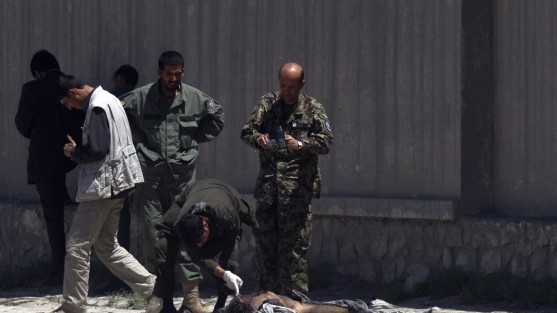 ---
KUNDUZ: A roadside bomb struck a police patrol on Sunday in the remote northeastern Afghan province of Badakhshan, killing seven officers, officials said, in the latest violence blamed on the Taliban.

Separately a military commander said up to a dozen Taliban-linked militants, including their commander, were killed when NATO and Afghan troops backed by air support struck their sanctuaries in the northern Baghlan mountains.

The policemen were killed when a roadside bomb, the type often used by Taliban Islamist militants, hit their vehicle on a dirt road, deputy provincial governor Shams-Ul Rahman Shams said. "We blame the attack on the armed opposition groups," he told AFP, referring to Taliban. "It was a remote-controlled bomb."

In Baghlan, north of Kabul, Afghan and NATO troops located a group of Taliban militants hiding in mountains on Saturday, said Murad Ali Murad, military commander for northern Afghanistan. "We conducted an operation and we killed 12 Taliban including two commanders. Their bodies are left in the area," Murad said.

The rebels had fled to the mountains following operations across Baghlan launched about a month ago, he said. Afghanistan is in the grip of a deadly insurgency being waged by the remnants of the Taliban, a fundamentalist group that held power from 1996 until being overthrown in a US-led invasion in late 2001.

The rebels are trying to regain power and drive out tens of thousands of foreign forces who are in Afghanistan to root them out.