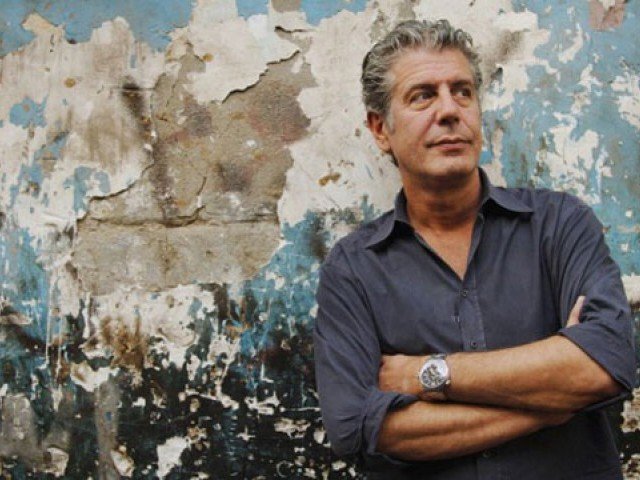 ---
The news of celebrity chef Anthony Bourdain's death has drawn tributes from around the world, including Pakistan. Host of CNN's food-and-travel-focused Parts Unknown television series, he killed himself in a French hotel room last week. This came three days after American designer Kate Spade, who built a fashion empire on her signature handbags, was found dead of suicide in her New York apartment.

Both these personalities were hugely successful in their professional life. It was their personal lives that they could not, unfortunately, come to terms with.

For many Pakistanis, Bourdain's work with the Palestinians in 2013 can be termed the highlight of his career. He travelled to Jerusalem, the West Bank and Gaza to spotlight Palestinians and was shocked to witness the brutality of the military occupation by Israeli forces.

Bourdain did what most journalists reporting for the Western media in that region cannot do — report the truth as they see it. In the words of an American university professor, Anthony Bourdain was one of the few prominent media personalities who regularly humanised Muslims as regular, everyday people — without manipulating their lives or stories.

And yet, the tragedy is that such a talented person could not find a reason to continue living. His death is not an isolated incident. We are told that suicide rates have surged among people aged 45 to 64 across the world.

Celebrity chef and TV host Anthony Bourdain commits suicide

Economic pressure and loneliness are two important factors for suicides in this age group. All over the world, suicide is one of the three leading causes of death along with Alzheimer's disease and drug overdose. Pakistan is no exception.

At a press conference in 2016, Dr Ayesha Mian, the chairperson of the department of psychiatry at the Aga Khan University, informed reporters that around 50 million people in Pakistan are suffering from common mental disorders.

The illness afflicts 15 to 35 million adults, which is about 10 to 20 per cent of the population. We are not equipped to counter this. There are less than 500 trained psychiatrists in the country. The ratio of psychiatrist to patient is staggering. Approximately 20 million children or 10 per cent of the population need attention from mental health practitioners.

Of this, depression accounts for six per cent cases of mental illness in Pakistan. We are told that depression is a disorder that can be reliably diagnosed and treated in primary care. But we are not seeing that happening.

Anthony Bourdain: Celebrity chef who 'humanised' Palestinians

Perceptions also play a major role in addressing this problem. People with mental illness are violent, look different from others and are believed to never get better. Such misleading stereotypes impact these people's struggle to cope with their condition.

One wonders what has our attitudes been with those who have mental health issues. Dr Syed Haroon Ahmed, founder convener of the Pakistan Association for Mental Health and the Pakistan Psychiatric Society, also seen as the father of mental healthcare in the country, recalls the days when as part of his studies he would visit the Sir Cowasji Jehangir Institute of Psychiatry and Mental Hospital, Hyderabad (also known as Giddu Bandar) to observe the behaviour of patients.

In those days, tickets were sold to watch the mentally ill. It was like a zoo where people paid 25 paisa for watching patients. There were signboards that read 'Feeding the mad is prohibited'.

Since then, have things changed for the better? One of the leading authorities in this field, Dr Murad Moosa, terms suicide a major public health problem in Pakistan. In an interview, he said that despite the high numbers, suicide prevention is not a government priority. There is no official, countrywide data or study on suicides. Policy initiatives cannot be implemented in an area that is so under-researched.

Incidentally, the dearth of statistics also points to the religious, legal and socio-cultural barriers that surround suicide.

The Pakistan Medical and Dental Council, which regulates medical education in Pakistan, does not require psychiatry to be examined as a separate subject. So while students may study psychiatry they do not need to take an exam in the subject.

Doctors argue that if you do not examine students in a subject, they will never take it seriously. Consequently, when medical students begin practising and come across depressed patients, they do not have the training or skills to see that a patient is suffering from a mental disorder. We are just not equipped to cope with this problem.



Published in The Express Tribune, June 11th, 2018

Like Opinion & Editorial on Facebook, follow @ETOpEd on Twitter to receive all updates on all our daily pieces.

.
COMMENTS
Comments are moderated and generally will be posted if they are on-topic and not abusive.
For more information, please see our Comments FAQ