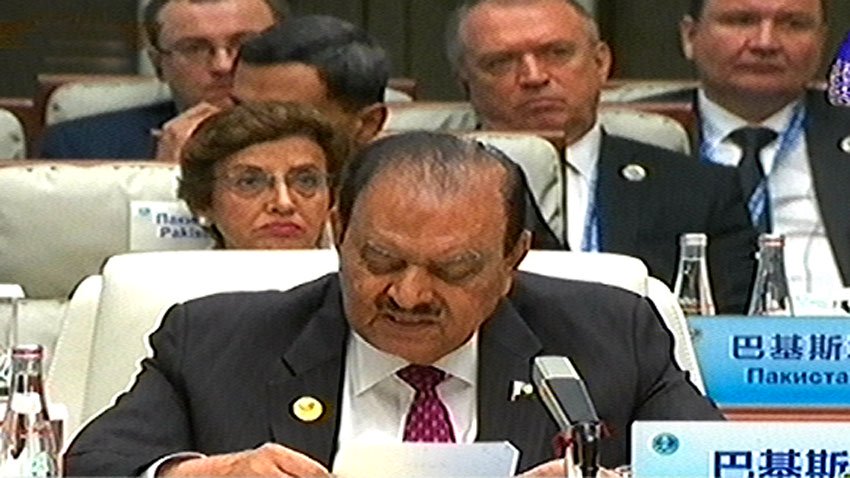 ---
President Mamnoon Hussain revealed on Sunday that Islamabad and Kabul were collaborating to draft a comprehensive strategy for establishing peace in Afghanistan, Radio Pakistan reported.

Addressing the 18th Shanghai Cooperation Organisation (SCO) in Qingdao, the president reiterated Pakistan's efforts to promote peace and stability in its war-torn neighbor. He praised the recent ceasefire in Afghanistan as a sign for regional peace.

The president said Pakistan had issued a special postal stamp to felicitate the Chinese government and the people of China on the successful conduct of SCO Summit which witnessed signing of over 20 documents outlining future trajectory in a number of spheres.

Emphasizing on the commitment to SCO, President Mamnoon reaffirmed Pakistan's desire to as a conduit between Eurasia, China, Central and South Asia by offering to boost trade, transit and energy corridor through its territory.

Reiterating support to SCO's Regional Anti-Terrorist Structure (SCO-RATS), he urged for efforts to counter narcotics and illicit drugs in the region.

China wants better Indo-Pak ties, cooperation in SCO

On the sidelines of the visit, the head of state met with his Chinese counterpart President Xi Jinping, Russian President Vladmir Putin, Iran's Hassan Rouhani and President Mirzyoyey of Uzbekistan.

During a meeting, President Mamnoon and President Putin discussed bilateral contemporary regional and global issues, said a press release issued by the President's Office. Matter including trade, energy, security, education and people-to-people contact were identified as 'avenues' for cooperation.

On Saturday, President Xi, the host for the summit, expressed unequivocal support for Islamabad to safeguard its independence, sovereignty and territorial integrity.

"China is willing to intensify high-level contact and strategic communication with Pakistan. The China-Pakistan all-weather strategic cooperation is not only the shared asset of the two countries but also offers a model for building a new type of international relations," said Xi.