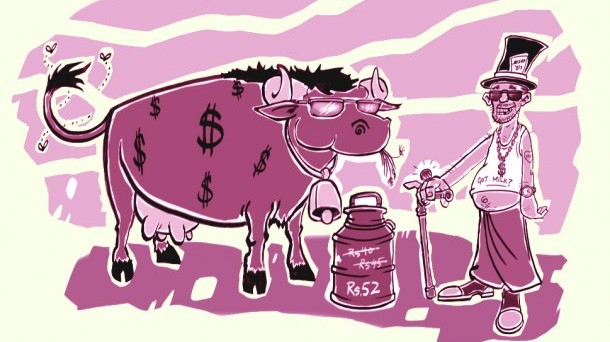 ---
KARACHI: Dairy farms in Karachi have decided to once again increase the price of milk by four rupees from June 1. The last increase was in March.

The government's set price is Rs37 per litre but this is not necessarily enforced. The decision to raise the price is taken by two influential groups at Bhains Colony. One of them, the Haji Akhtar Gujjar group in No. 4, has already decided to increase the price from March 1. That was when they added 120 rupees to the price of 37.5 litres. They decided this increase would last till May 31 after which they would meet to review prices for June.

Another group is the Haji Sikander group that announced a five-rupee increase in Bhains Colony No. 6 in March. Most of the wholesalers belong to the other group - Gujjar's. This is why this change was not accepted by most people. In March, they decided that wholesalers would get a 50- paisa commission per litre. Transportation costs would be five rupees per tank.

Retailers would get a 22-paisa per litre margin. Sources said that dairy farmers were selling 37.5 litres for Rs1,590, which included the 100-rupee transportation cost and commission. It reached shopkeepers at Rs1,690. But with the increase, shopkeepers will now get it for Rs1,810. The price of milk has been contentious since 2008 when the matter went to court. The price of production is Rs34 per litre, wholesale price Rs35 and retail price Rs37. However, it was being sold for Rs46 to Rs48 in the city. Now they are eyeing a fourrupee increase.

The revenue department has limited powers to fine milkmen to the extent of 500 rupees but not much more than that. The increase in the prices of fresh milk will also affect the prices of packaged milk. The consumption of tetra pack milk in Pakistan is less than four per cent of total milk sales. The government has unsuccessfully struggled to keep the price of milk down to Rs28 per litre but retailers insist that it is Rs34. The matter went to court with the Karachi Milk Retailers Association filing a petition against the city government, saying they did not have the authority to decide prices. They pleaded that these powers rest with the provincial government.

Milk sellers were also upset with the CDGK over the fines and raids. A court ordered that milk to be sold at Rs37 per litre. Karachi Dairy Farmers Association president Haji Sikandar Nagori has often said that while they agreed milk shoud be cheap, they needed to keep the costs incurred by dairy farmers in mind. The prices of these items need to be kept as low as possible but it is unfair to campaign against dairy farmers. They have to pay for fuel, for instance, and that has become more expensive. He alleged that the CDGK was backing the packaged milk industry.

The government or the courts may fix the price of milk but it is difficult for them to enforce it and ensure that watered down versions are not sold. There are an estimated 50,000 outlets in the city. In Lea Market, for example, the actual milk content is sometimes as low as 10 to 15 per cent in a 40-seer canister because 15 litres of water have been added.

Milk from dairy farms contains at least 6.5 per cent fat while tetra pack milk, with merely 3 per cent fat, costs Rs56 per liter. When farmers cannot recover their costs, they prefer to sell their cows to the slaughterhouse if the animal produces less than six to seven liters a day.
COMMENTS
Comments are moderated and generally will be posted if they are on-topic and not abusive.
For more information, please see our Comments FAQ