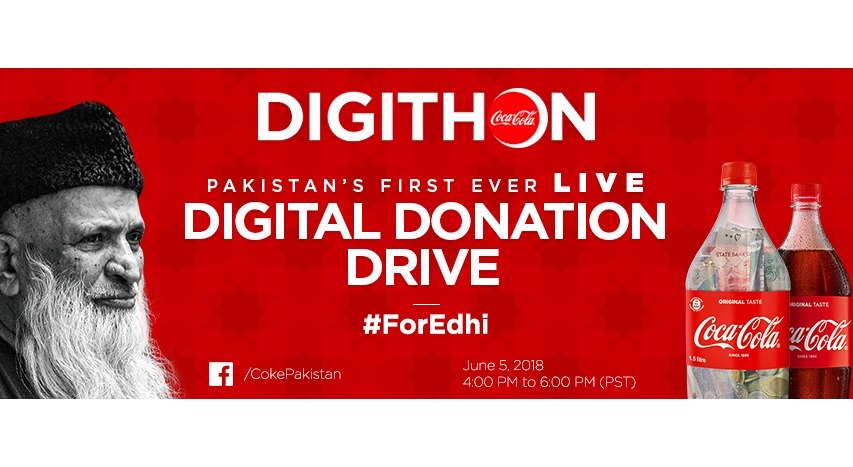 ---
Ramazan is a time when charitable giving is at an all time high. In keeping with this sentiment, Coca-Cola launched Pakistan's first ever Digital Donation Drive, the Coca-Cola Digithon. It is an extension of Coca-Cola's "Bottle of Change" campaign which urges people to support the cause initiated by Abdul Sattar Edhi.

Prominent celebrities have taken Edhi's mission forward as they use social media as a platform to bring attention to the cause and encourage others to join them in their effort. In this way, Coca-Cola's philanthropic efforts have successfully ignited the spirit of giving across the country.




The Digithon went live on Coca-Cola's Facebook page on June 5, 2018 from 4pm to 6pm and hosted public figures from different fields. Here's the line-up:

Momina Mustehsan: An ardent advocate of a range of social causes ranging from women's rights to education and mental health awareness, Mustehsan was present at the Digithon.

Ali Rehman: The actor, who is a true humanitarian and advocate of immigrant rights, was also a part of the Digithon.




Ahad Raza Mir: Budding actor and national heartthrob, Mir joined the Digithon team.

Maya Ali: Having supported a host of fundraisers prior to becoming part of the Digithon, Ali was welcomed to the panel.

Faisal and Bilquis Edhi: The son and wife of Abdul Sattar Edhi need no introduction. Faisal Edhi alongside his mother Bilquis, have been spearheading the Edhi foundation and its mission after the departure of Edhi Sahab.




Undoubtedly, the Digithon has changed Pakistan's digital landscape by enabling individuals to make pledges for donations through Live Calls and SMS. Moreover, callers who wished to go live with their donations got a chance to talk to their favorite celebrities. Some individuals used the hashtag #ForEdhi on social media to send in questions.




Log on here to play your part in changing the lives of those in great need.