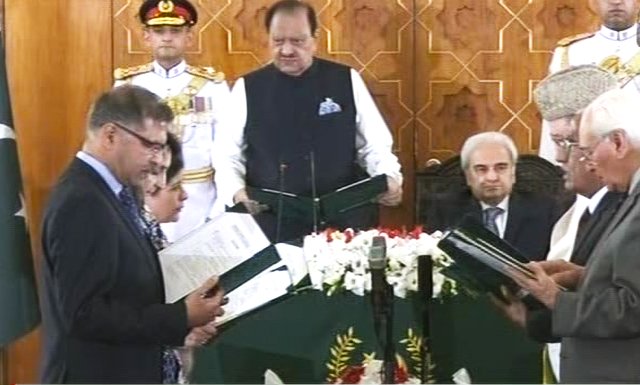 ---
ISLAMABAD: A six-member cabinet of caretaker Prime Minister Nasirul Mulk was sworn in on Tuesday, completing formation of the interim set-up at the Centre. The federal caretaker cabinet is almost one-third of the size of the 17-member caretaker cabinet in Sindh.

Dr Shamshad Akhtar, Abdullah Hussain Haroon, Barrister Syed Ali Zafar, Roshan Khursheed Bharucha, Azam Khan and Professor Muhammad Yusuf Shaikh have been inducted into the interim cabinet.

President Mamnoon Hussain administered the oath to the cabinet members at a ceremony held at the Presidency. Caretaker Prime Minister Mulk and top government officials were present on the occasion.

Dr Akhtar has been assigned the ministries of Finance, Revenue and Economic Affairs, Statistics, Planning, Development and Reform. She is also handed the additional portfolios of Commerce and Textile and Industries and Production.

Caretaker PM directs legal team to challenge LHC verdict on nomination papers

Haroon has been assigned the Ministry of Foreign Affairs and the National Security Division. His additional ministerial portfolios include Defence and Defence Production.

Barrister Zafar will oversee ministries of Law and Justice, Parliamentary Affairs, Information Broadcasting, National History and Literary Heritage.

Bharucha is assigned ministries of Human Rights, Kashmir Affairs and Gilgit-Baltistan, States and Frontier Regions.

Khan is to head Interior Ministry, Capital Administration and Development Division, Narcotics Control and his additional ministerial portfolio includes Inter-Provincial Coordination.

Prof Shaikh heads Federal Education and Professional Training and his additional ministerial portfolios include National Health Services, Regulation & Coordination, Religious Affairs and Interfaith Harmony.

Dr Akhtar is the former governor of the State Bank of Pakistan. She has also served at senior positions at the World Bank, the Asian Development Bank and the United Nations.

Haroon has served as Pakistan's Permanent Representative at the UN while Khan is a former bureaucrat from Pakistan Administrative Service. He has served as provincial minister in Khyber-Pakhtunkhwa (K-P) from October 2007 to April 2008. He also held top government positions in the K-P.

Barrister Zafar is a renowned lawyer. He is son of the eminent constitutional expert SM Zafar. Ali Zafar is former president of the Supreme Court Bar Association (SCBA).

Bharucha is a social welfare expert. She is a former senator and served a provincial minister in Balochistan from November 2007 to April 2008. She is currently the chief executive officer of a non-governmental organisation.

Prof Shaikh is an educationist and a former serviceman. He has served as principal at several schools and cadet colleges. He has also served as general staff officer and Instructor at the prestigious Pakistan Military Academy Kakul, Abbottabad. The professor is a lifetime member of the Pakistan Arts Council Karachi, the Sindh Red Crescent Society and the Society of Pakistan English Language Teachers.

Mulk, who is also a former chief justice of Pakistan, had indicated shortly after assuming oath earlier on Friday about setting up a small-sized cabinet and holding the general elections on time.

"Mark my words, the general elections would be held on time. Free and fair polls would be a top priority of the caretaker government. We will perform our responsibilities with utmost diligence for which we are here," he had said, in a brief and informal conversation with journalists.

Away from media glare, Mulk works on cabinet formation

Mulk chairs meeting on power situation

Chairing a meeting on power situation in the backdrop of unprecedented load-shedding in the country, Mulk directed the Ministry of Power to take steps for curtailment of power sector losses so as to improve overall system efficiency and sustainability of the power sector.

According to a press release, the PM was informed that as compared to 18,753 megawatts of power in 2013, the current available generation capacity stands at 28,704 MW.

He was told that due to weather conditions and the reduced water supply, the hydel generation in May 2018 remained at 3,090 MW as compared to 6,333 MW in 2015.

"[The PM] expressed concern over the huge losses in various distribution companies and directed the power ministry to immediately start taking steps for the curtailment of these losses," the press release says.

Senate chairman, Chinese envoy meet PM

Senate Chairman Sadiq Sanjrani and China's Ambassador to Pakistan Yao Jing separately called on the caretaker PM to congratulate him on assuming oath and discussed matters of mutual interest.


COMMENTS (1)
Comments are moderated and generally will be posted if they are on-topic and not abusive.
For more information, please see our Comments FAQ