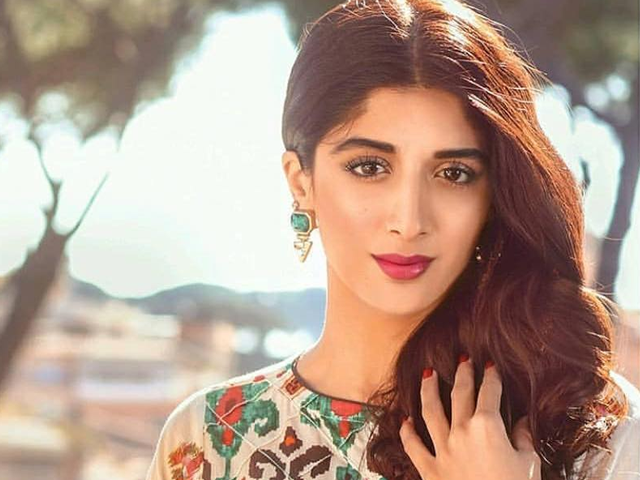 ---
ISLAMABAD: I first met an aspiring Mawra Hocane at the screening of her sister Urwa's debut film Na Maloom Afraad in Islamabad. Then too, she was a star attraction. Fans assembled to get themselves pictures and selfies.

As much as she loved the attention, Mawra very much deserved to be there as well. Her presence on social media (she's amongst the most followed Pakistani celebs on Instagram) has already placed the starlet on the map but it's her otherwise luminary persona that helped carve a lasting niche for her.

https://www.instagram.com/p/BioiQNJlJSA/?taken-by=mawrellous

Years later, she's now a beaming light in the entertainment industry. She's always on the go, as her Instagram suggests, but recently took some time off to complete her LLB degree.

Nonetheless, she's also wound up shooting for her debut film Jawani Phir Nahi Ani 2 (JPNA 2) and a period play titled Aangan, both alongside A-list actors like Fahad Mustafa, Humayun Saeed, Kubra Khan, Ahsan Khan, Ahad Raza Mir and Sajal Aly.

https://www.instagram.com/p/BioUPDRlrAU/?taken-by=mawrellous

Talking to The Express Tribune, this delightful mix of quirkiness and calmness spilled the beans on finally making it to cinemas, what it takes to be a female superstar in today's world and the responsibilities that come with it.

The Express Tribune (ET): You've taken time off to speak to us in during your law exams. What made you opt for Law and what has it taught that you think will stay through life?

https://www.instagram.com/p/Bhq9KvClvaJ/?taken-by=mawrellous

Mawra Hocane (MH): I've always been deeply affected by social issues and I felt having a law degree would not just make me more aware of these problems but also allow me to find solutions. All forms of education stay with you and at some point in life, help in your professional and personal lives. My Law degree will hopefully be no different.

ET: You shot the last spell of your first Pakistani film 'JPNA 2' while preparing for your finals. How did you manage?

MH: Well, I took a big pile of Law books to Dubai with me and would revise every day before going to shoot and after returning from there. It was very difficult but I had no choice and I'd like to think I was able to manage both, pretty well. Education is a process that's not just restricted to the acquisition of a degree. The time you give to your studies and the discipline it teaches you are extremely valuable and so are the other numerous lessons you learn by interacting with your teachers and peers.

ET: How was the filming of 'JPNA 2?' Do you think there's some sort of pressure considering how well the first installment of the film did with its original cast?

https://www.instagram.com/p/BhMnA7BFPXR/?taken-by=mawrellous

MH: It was a lot of fun because I am friends with all my co-actors. We had a wonderful time together and of course, it didn't hurt that our first spell was in Istanbul and the second in Dubai. Both cities have so much to explore.

As far as pressure is concerned, most of the original cast is still, there along with Nadeem Baig's expertise. I'd like to believe Fahad and I have worked very hard to ensure the audience accepts us as a part of the JPNA franchise. I can assure you that the film will be even better than the prequel. So no, there's no pressure at all.

ET: 'JPNA' was primarily a male-buddy film. What made you take it up when there were already questions of the lack of substance female characters had in it?

https://www.instagram.com/p/BgOhBJ3l9vp/?taken-by=mawrellous

MH: I have complete faith in my director and in my decision to do this project. But having said that, I think it would be really premature to talk about JPNA 2's storyline at the moment because to answer your question, I'd need to talk about my character and Fahad's character and my track which I am really not at liberty to discuss. Of course, there is a strong presence of male characters in the film but that's alright. I believe the primary purpose of the films I do is I to entertain, not to promote my own self.

ET: You had made your foray into Bollywood with 'Sanam Teri Kasam' over two years ago. Now that you've gained local experience as well, how different do you think our approach is to films compared to Bollywood's?

https://www.instagram.com/p/BcM6wwmFoqa/?taken-by=mawrellous

MH: I had the best team in Pakistan working with me on JPNA 2. These guys have already delivered blockbusters; doesn't their work speak for itself? Of course, we are still in a nascent stage and decades behind the kind of experience, skills and resources Bollywood film-makers have. But with our own set of limited resources, I think most of the film-makers in Pakistan are doing a fantastic job. And also, there's obviously no comparison to working at home-ground!

ET: 'JPNA 2' and 'Aangan' both happen to have ensemble star casts. Is screen time and space ever a concern for you?

https://www.instagram.com/p/BexH_37FuGO/?taken-by=mawrellous

MH: I'm lucky to be doing both so no, I don't get bothered by such things. If at all, it helps to have a talented group of co-actors around you because eventually, that makes your own job a lot easier. There's no insecurity or apprehension working alongside shining stars who only help you shine even brighter.

ET: Tell us a little about your role as Aaliya in 'Aangan.' What was it like preparing for a character that you might not relate to or see in the world today?

https://www.instagram.com/p/BggxMlAF4zm/?taken-by=mawrellous

MH: I've worked very, very hard on this character. My preparation involved going over the script and novel, obsessively and repeatedly. I can't reveal too much at the moment, but as Ehtesham Bhai (director) has mentioned earlier, Aaliya is the narrator of the story and whatever you see on screen is through her eyes. It's a character very, very close to my heart and I hope it touches the audience in the same way.

ET: With serials like 'Udaari' and 'Sammi' getting so popular, do you think female representation and characterisation in the media at large, is changing for the better? How important do you think social commentary is?

https://www.instagram.com/p/BjeeaMEAO7o/?taken-by=mawrellous

MH: We've always had strong female representation in our dramas. I mean our PTV dramas, throughout the '90s, were very progressive and some were even completely centred on women. So I don't think this is something new.

Of course, we have had our share of TV serials which portrayed women as suppressed, good-for-nothing individuals and amidst those kinds of projects yes, Udaari and Sammi emerged as path-breakers. They got the focus back on women empowerment. I hope and wish we don't lose that focus now and continue to produce meaningful, pertinent stories.

Have something to add to the story? Share it in the comments below.