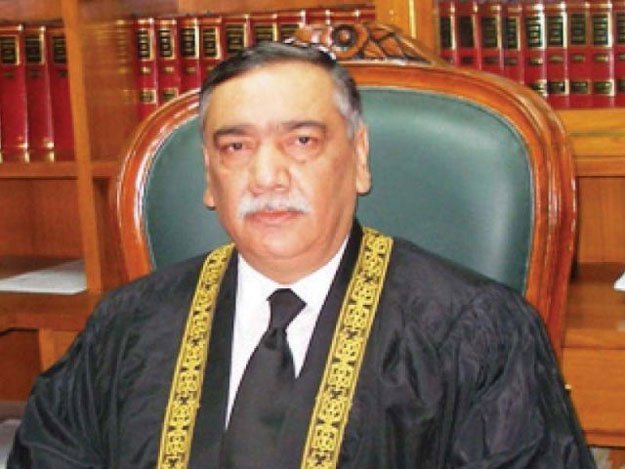 ---
ISLAMABAD: Amid ever-increasing pendency of cases in the Supreme Court, there is some good news too – a special bench led by Justice Asif Saeed Khosa has decided over 10,000 cases of criminal nature since 2014.

The total number of pending cases in the top court has reached near 40,000 and a few hundreds of criminal cases are left, which is being considered as a landmark achievement of the apex court, especially of the senior most judge, Justice Khosa, who will be next chief justice of Pakistan.

Secretary to the Law & Justice Commission of Pakistan (LJCP) Muhammad Raheem Awan told The Express Tribune that a special bench led by Justice Khosa decided more than 10,000 cases since 2014 and only 526 criminal appeals were pending at the Principal Registry, which was expected to be decide till August.

Awan added that there was zero pending appeal at the SC's Karachi and Quetta registries.

Another senior SC official shared that when the special bench got active then criminal appeals, which were filed in 1990s, were pending in the apex court. The bench cleared the backlog and now it is hearing criminal appeals of 2017-18.

Khawaja Asif qualified to contest polls, rules SC

It has been witnessed that after hearing every case, the leading judge dictates the orders in courtroom at the same time without reserving them.

According to Justice Khosa's profile available on the SC website, he has decided the fate of about 55,000 cases over a period of more than 19 years so far.

Renowned lawyer Faisal Siddiqui said that an overview of Pakistan's Judicial history shows that no judge has achieved such disposal on the criminal side as he [Khosa], especially since the 1990s when the pendency of criminal cases really started multiplying. "So it's a great achievement which will take him into the annals of judicial history. Apart from this, he has achieved two other things -- he is one of those judges who have rewritten the criminal jurisprudence in Pakistan, in addition to laying down new jurisprudence on Mumtaz Qadri and former PM Nawaz Sharif cases, which not only required quick disposal but also a lot of courage," says Siddiqui.

Delay is the single biggest problem in our criminal justice system, lamented Barrister Asad Rahim Khan. This has less to do with the quantity of cases disposed, than it has to do with the quality of judgments announced - especially at trials, he added.

PTI's change of heart over Punjab interim set-up invites rivals' ire

At the SC level, however, the reason Justice Khosa-led bench has been so necessary for our case disposal is premised on three aspects: stamping out our adjournment culture, understanding the role of police, and moving forward on law points after applying the bar of finality to the facts of the case.

Moreover, Punjab Deputy Prosecutor General Muhammad Jafar, who is appearing before the special bench for last two years believe that it is a great experience to argue the cases before court as there is no adjournment by the special bench.

"We have been instructed for full preparation before appearance. Cases are being decided on merit by adhering to certain principles without considering the fact that the applicant is poor or rich," he added.

It has been witnessed that the special bench upheld death sentences in a few cases [five per cent] for the last couple of years. Jafar believes it is happening due to flaws in the investigation process and false witnesses, etc.

Likewise, senior lawyers ascribed the high acquittal rate to the application of the principle of 'Falsus in uno, falsus in omnibus' (False in one thing, false in everything).

According to this principle, the evidence of a witness cannot be ruled out of consideration against the accused just because one or more accused was found innocent and was acquitted. In such situations, the court follows this rule.

Giving reason regarding the acquittal of convicts, another senior law officer, who appeared on behalf of the state to assist the bench in criminal cases, reveals that since independence of the country, the courts were applying the principle of "sifting chaff out of grain" in criminal cases.

FIRs cannot be used as pretext for arrests: SC

According to that principle, evidence of a witness cannot be brushed aside and ruled out of consideration against all accused for mere reasons that one or more accused in the case were found not guilty and were acquitted, rather the court in such a situation while following the rule of sifting the grain from chaff would fix the responsibility of an accused.

Falsus in uno, falsus in omnibus is a Latin phrase meaning "false in one thing, false in everything." At common law, it is the legal principle that a witness who testifies falsely about one matter is not credible to testify about any matter.

He further says that in view of the later principle, if the lower courts are acquitting some accused persons on the basis of false evidences or fake statements of witnesses then same cannot be used to convict anyone else.
COMMENTS
Comments are moderated and generally will be posted if they are on-topic and not abusive.
For more information, please see our Comments FAQ