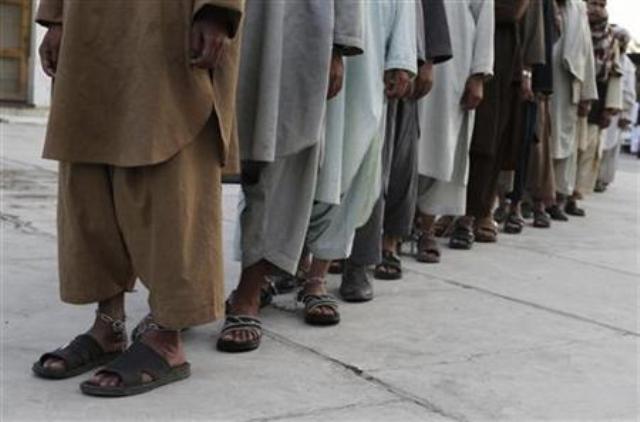 ---
ISLAMABAD : Nearly 80, 000 prisoners are languishing in almost a hundred jails across the country, having a capacity to accommodate only 56,353 inmates, says a report submitted by the Federal Ombudsman before the Supreme Court in a suo motu case regarding the miserable condition of female prisoners.

The report also reveals that 1,955 women and 1,225 juvenile are imprisoned in different jails of the country. After receiving reports from all session judges, the Federal Ombudsman compiled a comprehensive report, wherein complete data of different types of convicts has been provided. Senior legal advisor Hafiz Ahsaan Ahmad Khokhar submitted the report in the apex court.

It is learnt that the report from each session judge was examined after which the Federal Ombudsman drafted a 14-page report, pointing out several deficiencies and making recommendations.

The report says that 78,160 prisoners are detained in 98 prisons of the country. On the other hand, total sanctioned strength of these jails is 56,353. Of the 78,160 inmates, 25,195 are convicts, 48,780 under trial prisoners and 4,688 condemned prisoners.

Redesigning Pakistani prisons must for reforming inmates: Sindh Prisons IG

In Punjab, 48,760 prisoners are detained in 41 jails having a capacity to accommodate 33,235. The total inmates include 17,351 male and 359 female convicts, 26,522 under trial prisoners, 3,890 condemned prisoners, besides 961 women and 629 juveniles.

In Sindh, 18,420 prisoners are detained in 25 jails having a total capacity of 12,413. The inmates include 3,914 convicted, 13982 under trial, 192 women and 525 condemned prisoners.

In Khyber-Pakhtunkhwa (K-P), 10,358 prisoners are detained in six central and 15 district jails as against as sanctioned strength of 8,395. Of the total inmates, 2,993 are convicted, 7,150 are under trial, 382 juvenile and 215 condemned prisoners.

However, it has been noted that jails are not overcrowded in the province of Balochistan. As many as 2,158 prisoners are detained in 11 jails of the province which has a total capacity of 2,585. Only 20 women and 50 juvenile are among those detained.

Central Jail, Karachi — for the prisoners, by the prisoners

Deficiencies

The Federal Ombudsman thoroughly examined the report sent by sessions judges across the country and noticed a numbers of deficiencies, like shortage of staff in jails and funds, overcrowding, lack of sanitation and health facilities, and non-production of under trial prisoners in courts.

The report also pointed out the absence of separate barracks for hardened criminals, first offenders, juveniles and women; unnecessary detention in petty crimes; lack of free legal aid for prisoners and educational and skills training facilities. It also mentioned that lack of independent jail for every district causes overcrowding and problems related to prisoner's transportation.

Judicial magistrate summons prisoner's record

Recommendations

The Federal Ombudsman also proposed formation of two committees for improving life of prisoners in jails, especially children and women.

Likewise, District Oversight Committees should be constituted to monitor implementation on court orders in districts. These committees should consist of members from the civil society, bars and education and health sectors having a significant track record of contributing towards improving the life of prisoners.

Another suggestion was that the Ministry of Interior and Prison Departments could be directed to appoint senior officers to act as focal persons for surprise visits of the said committees. Similarly, Law & Justice Commission, together with advocates general and provincial ombudsmen, should review and submit proposals for significant expansion of probation and parole facilities to reduce pressure on accommodation facilities in jails.

NCHD sets up literacy centres in 99 prisons

It is further proposed that provincial governments should build jails in every district headquarter, and the federal government in Islamabad. Every jail should have separate and independent portion for women and juvenile prisoners, with sleeping space for every prisoner with adequate toilet and hygiene facilities.

"There is a need to link biometric system in jails with courts for maintaining the record of prisoners. The provincial governments may also be directed to proceed accordingly and ensure development of an interface between jails, courts and Nadra for monitoring and verification of the prisoners' record," the report suggests, adding that drug addicted prisoners should be kept outside the jail premises in a rehabilitation centre and provided appropriate treatment.

The report further recommended that the Higher Education Commission of Pakistan may be directed to assist in improving educational and skills training facilities, including missing facilities and payment of fines to deserving prisoners.

"Pakistan Bar Council and Provincial Bar Councils may be advised to provide free legal aid to prisoners, especially those under trial or those willing to file appeals," it adds.

The Federal Ombudsman Secretariat assured the Supreme Court that all efforts would be made to ensure implementation of its orders pertaining to the Secretariat and a close coordination would be maintained with the offices of provincial ombudsmen as well as concerned agencies for the purpose.

The hearing of the case will resume today (Thursday).