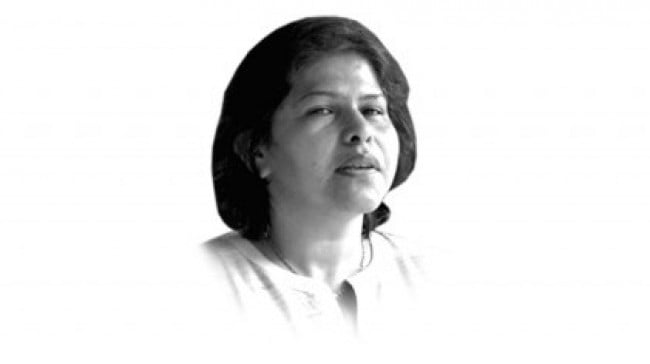 ---
Ask any military person about psy-ops and hear them rattle about this being the most effective method used, especially these days, to neutralise the opponent. In this information age media has naturally become a tool that militaries must use to break the enemy from within or defend against the enemy's onslaught. Information is released by the state and publicised in a manner which would help seek public support or draw people's attention towards another direction. Thus, public opinion, which governments or leaders cite as the reason for their action or inaction, is strategically constructed.

We in South Asia have a fair experience of psy-ops. The more recent examples relate to the Kargil war and the present war against the Taliban. In the first case, the images of funerals of dead soldiers in distant villages by the Indian media had built support for the government via-a-vis Pakistan, both internally and externally. Pakistan responded by filtering information to hide the fact from its own people that the concentration of firepower by the Indians had resulted in lines of communication and supply to our own brave soldiers cut even before the international community was at Islamabad's throat. Consequently, the soldiers stuck at unfriendly heights had no option but to sacrifice their lives. The Musharraf-led GHQ's psy-ops were also to make people believe that had Nawaz Sharif not decided to withdraw the Kargil operation was a winnable war.

Similarly, the war against Taliban is not just a conflict which will be won by weapons alone. As a matter of fact, this war cannot be won without effective psy-ops. In other words, the war cannot be won without public support for the military operation.

So, have we worked towards neutralising the enemy? The answer is a plain no. It's true that people are angry with the Taliban. The public is not supportive of the terrorist attacks within. Men, women, children, students, teachers, artists, soldiers and many more of our nation die every day. Do we have an effective response? No. The psy-ops strategy is a proof of our erroneous approach. After every attack we are told that the Taliban are bad and that there is a heinous category of warriors called the Punjabi Taliban. But then our media gurus immediately correct people before they go too far by telling them that these are not the real Taliban but people who have been parachuted by our dire enemy India or ideological enemy Israel and America. In fact, when it comes to psy-ops we are not even sure which side are we fighting for. Take the example of the attack against the Sri Lankan team. We were informed immediately by many of our bright television anchors and even state functionaries that this was an act orchestrated by enemies next door. Every effort was made to divert attention from the enemies within resulting in a situation that the chief of a banned terrorist organisation Lashkar-i-Jhangavi is being hosted and driven around by a provincial minister of Punjab. Are we missing something here?

Despite the knowledgebase regarding psy-ops, which various military training institutions are supposed to have, we are miserably poor in this field. Friday's attacks in Lahore against the Ahmadis or the sectarian killings are some of the glaring examples of this. It is not a question of believing in a particular faith or not but about allowing people to live as citizens of this country and build the sense of common goal as a nation. The fact that we allow television anchors to condemn a certain community to death and yet get away with the murder means that we are as responsible for this killing as we were for the millions of Bengalis and Biharis who died in East Pakistan. If all of this is India's plan then one must congratulate the enemy for penetrating our media so effectively.

The majority may disagree with their ideology but the brutal murder of the Ahmadi community or the operation launched against them in the media – including the internet – is an example of how a state is unwilling to protect its citizens. Lest we forget, the Nazi state had forced its Jewish community, which comprised of some of the most brilliant minds, to leave.

Published in the Express Tribune, May 30th, 2010.
COMMENTS (10)
Comments are moderated and generally will be posted if they are on-topic and not abusive.
For more information, please see our Comments FAQ