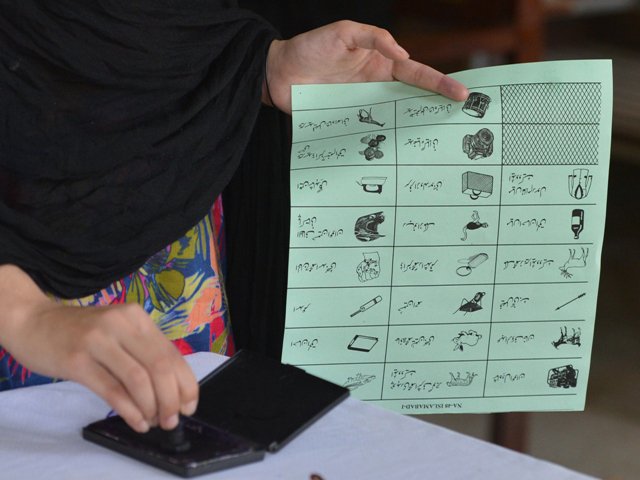 ---
ISLAMABAD: With polls announced for July 25, the pre-poll electoral process thus far has been 'unfair' overall.

This was determined by a systematic and continuous review of the pre-poll electoral process from April 2017 up to March 2018, by the Pakistan Institute of Legislative Development and Transparency (PILDAT) as part of its Pre-Election Assessment Report with a scorecard on pre-poll fairness perception.

The assessment reviewed over 70 relevant, key developments over the past year with scores assigned by members of the PILDAT Dialogue Group on Civil-Military Relations (DGCMR) using a framework devised for this purpose.

Based on the 11-point pre-poll fairness framework, the pre-poll process received an overall score of 51.5%.

Delimitation method in Election 2018

Scores of each of the 11 parameters show that two parameters fell in the highly unfair scale based on the scores received. These include the 'Perception of Neutrality of Military towards competing political parties and candidates' which received the lowest score of 33.4%.

It was followed by the parameter of 'Perception of Freedom of Private Media from the influence of State institutions and vested interests', which received a score of 37.8%.

The 'unfair' scale includes the perception of neutrality of the state-owned media, which has received a score of 41.5%, followed by the 'Perception of Neutrality of the Accountability Process led by NAB' which has received a score of 43.1%.

The 'Perception of Independence and Neutrality of Judiciary' was also considered unfair with a score of 45.8 %.

Protesting parties will be defeated in the general election: Shehbaz Sharif

The parameters which received the highest scores — and the only scores which fell in the 'fair' part of the scale — for providing a level playing field to all candidates for a free and fair election went to the top poll body, the Election Commission of Pakistan (ECP). The 'Perception of Credibility of Electoral Rolls', received the highest score of 67.3%.

By contrast, the 'Perception of Independence, Neutrality and Effectiveness of the ECP' received a score of 65.3 %, the second-highest ranking parameter.

The parameter of 'Perception of Fairness and Adherence to the Laws and Rules relating to the Electoral Constituencies Delimitation Process' also received a high score of 64% — this despite the fact that the Islamabad High Court (IHC) on Tuesday overturned delimitations in eight constituencies.



Published in The Express Tribune, May 30th, 2018.


COMMENTS
Comments are moderated and generally will be posted if they are on-topic and not abusive.
For more information, please see our Comments FAQ