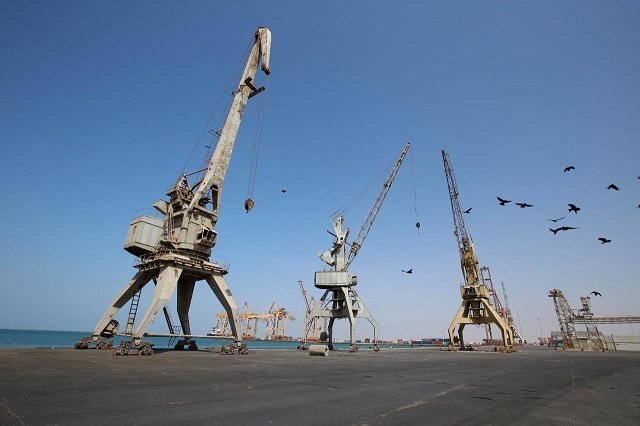 ---
HODEIDAH, YEMEN: Forces backed by a Saudi-led coalition are closing in on Yemen's Houthi-held port city Hodeidah, a coalition spokesperson said, but did not specify whether there were plans for an assault to seize the western port, long a key target in the war.

"Hodeidah is 20 km (12.43 miles) away and operations are continuing," spokesperson Colonel Turki alMalki said at a press
briefing in the Saudi capital Riyadh late on Monday, detailing
gains made against the Iran-aligned Houthi movement.

The Western-backed military alliance last year announced plans to move on Hodeidah, but backed off amid international pressure, with the United Nations warning that any attack on the country's largest port would have a 'catastrophic' impact.

Seven children among 12 killed in Saudi-led air strike in Yemen

The renewed push towards Hodeidah comes amid increased tensions between Saudi Arabia and Iran, which are locked in a three-year-old proxy war in Yemen that has killed more than 10,000 people, displaced three million and pushed the impoverished country to the verge of starvation.

Yemeni officials told Reuters earlier this month that troops were advancing on Hodeidah province but did not plan to launch an assault on densely populated areas nearby. Coalition-backed troops have now reached alDurayhmi, a rural area some 18 km from Hodeidah port, residents and the spokesperson for one military unit told Reuters on Monday.

It was unclear if Saudi Arabia's Western allies, which have come under increasing scrutiny for arms sales to coalition member states, have approved an attack on Hodeidah, whose port handles the bulk of Yemen's commercial imports and critically-needed aid supplies. Riyadh says the Houthis are using the port to smuggle Iranian-made weapons, accusations denied by the group and Tehran.

Yemen's Houthis and Saudi Arabia in secret talks to end war: sources

Houthi leader Abdul Malik alHouthi called on his followers and Yemeni tribesmen in a televised address on Sunday to head to
Hodeidah to confront the 'breach' along coastal areas.

The alliance of mainly Gulf Arab states has made gains along the southwestern coast since it intervened in Yemen's war in 2015 to restore the internationally recognized government in exile and drive back the Houthis, who hold the north including the capital Sanaa.

Tens of thousands of Yemenis have been fleeing Hodeidah, Yemen's second most populous province, as fighting intensifies on the front-lines, Amnesty International reported earlier this
month.
COMMENTS
Comments are moderated and generally will be posted if they are on-topic and not abusive.
For more information, please see our Comments FAQ