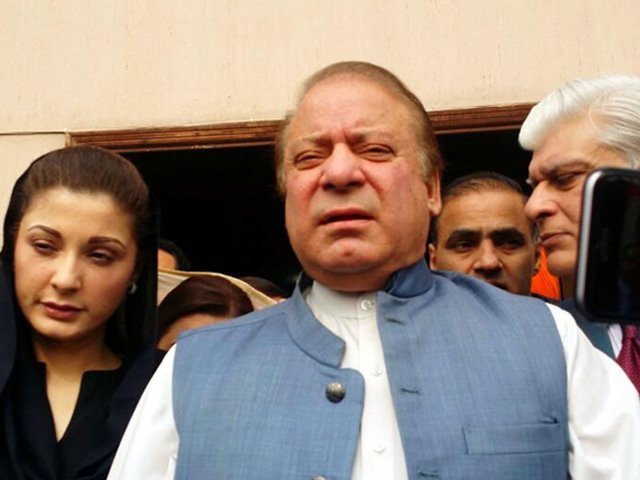 ---
ISLAMABAD: Former prime minister Nawaz Sharif's ceaseless criticism of the establishment took a big step forward on Wednesday as he blamed Pakistan's "powerful generals and judges" for ousting him thrice from power.

Army generals imposed martial laws to throw out democratically-elected prime ministers of Pakistan, and judges legitimised the military rule by providing it legal cover.

The three-time prime minister, whose recent statement about the Mumbai attacks has drawn widespread criticism, said this while recording his statement in the Avenfield reference before an accountability court.

For the first time in the country's history, Sharif brought on judicial record the question why military generals were allowed to "abrogate Constitution with impunity" and why "judges always legitimise their rule".

'It's a punishment'

The deposed prime minister told the accountability court that the National Accountability Bureau's (NAB) corruption references against him "are a punishment for going ahead with treason case" against former president General (retd) Pervez Musharraf among other things.

While recording his statement under Section 342 of the Criminal Procedure Code, he said the references and the 2014 sit-ins against his government were a punishment for him as he dared to take legal action against the former military ruler despite being warned not to do so.

In yet another startling claim, Sharif said the head of an intelligence agency had given him a message to "either resign or go on a long leave".

The spy agency head believed that the case against Musharraf could easily be wrapped up once he got out of the way, he said.

"The message caused immense pain. I felt pain thinking what has happened to Pakistan where an elected prime minister has become so worthless that a subordinate to the head of the government is giving [him] message to resign or go on a long leave," he said, adding that such a terrible situation might not even be prevailing in any Third World country.

"A dictator must be punished because the dictatorships have wounded the existence of Pakistan," Sharif said, adding that only a handful of the generals ruled the country but "the entire institution has to pay the cost".

Nawaz Sharif fails to appear before NAB in 'illegal' Jati Umra road probe

However, the quaid of the Pakistan Muslim League Nawaz (PML-N) also praised the armed forces' sacrifices, saying he knew "a weak army means a weak defence". But he said, "Praiseworthy are the ones who sacrifice their lives today for a better tomorrow of Pakistan and prefer to stay in the barracks instead of remaining in the corridors of power."

Sharif said he had upped the defence budget and also refused $5 billion for not conducting the nuclear tests in the 1990s. He informed the court that "baseless and frivolous cases" were filed against him because he refused to obey the orders to refrain from filing case against Musharraf.

"The abrogation of the Constitution and violation of the sacred oath for military's subordination of all state institutions not only lower the army's status but also affect its professional capacities as well as its integrity," he added.

In a veiled reference to the Dawn leaks, the deposed prime minister said when he insisted on "putting the house in order", he was considered a hindrance and ultimately disqualified from holding public office, then removed as the PML-N head, and finally disqualified for life.

He said he had already been punished once for his unwavering stance on civil supremacy when 19 years ago he was detained in torture cells, sentenced to life imprisonment, handcuffed and jetted off.

"Was there a Panama at that time? Was I subjected to such treatment because of Avenfield properties? The answer is simply no. At that time, too, I was demanding civil supremacy. I wanted foreign and domestic policies to be in the hand of the elected representative," he asserted.

Sharif said it didn't make any difference for him if someone called him "hijacker, Sicilian mafia, godfather, traitor or enemy of the country".

"I am a true son of the soil. I consider taking a certificate of patriotism from anyone a disgrace to patriotism," he said.

He also voiced his displeasure over the Supreme Court's July 28 verdict, asking what the judgment gave to Pakistan. "My disqualification may have satisfied some people but what did it give to democracy, constitutional system, judiciary or criminal justice system?"

Sharif said Panama Papers scandal was used against him despite the fact that his name was not in the leaked papers. He said he had faced over 70 hearings in the accountability court. He also reiterated his August 2017 questions that he had raised at a lawyers' convention.

"I wish it was possible to ask Nawabzada Liaquat Ali Khan's soul as to why he was martyred. I wish we could ask Zulfiqar Ali Bhutto's soul why he was hanged. I wish you could ask Benazir Bhutto's soul why she was killed. I wish we could call back all the elected prime ministers and ask why they couldn't complete their constitutional terms," Sharif said, reading out his statement before accountability court judge Muhammad Bashir.

"I wish you could call the generals, including the one who is still alive, and ask as to what was special in them that they ruled for decades," Sharif said. "I wish you could also call your senior judges and ask why they legitimised dictatorships, why they went against their oaths and submitted themselves to the wills of the dictators."

'Brothers of destruction'

Claiming to 'expose' the hurdles he faced after pursuing the treason case against Musharraf, Sharif explained how the Pakistan Tehreek-e-Insaf (PTI) and the Pakistan Awami Tehreek (PAT) formed an alliance and demanded his resignation.

He said he visited PTI Chairman Imran Khan at Bani Gala in March 2014, adding that it was a pleasure meeting with Khan and there was no mention of rigging or protest.

However, while swift progress was being made in the Musharraf's treason case here, Khan and Dr Tahirul Qadri of the PAT met in London, after which slogans of rigging emerged on the streets, he said. They planned a rally in Islamabad and started off their sit-ins on August 14, 2014 that lasted for four months, he added.

Sharif said the outcome and result of the sit-ins were in front of the country to see. "The two were allied on the basis that the prime minister should resign. The question arises how they came to this conclusion? Who set them up? Who united them? Who fed them the demand of the prime minister's resignation?" he questioned.

"All of that was orchestrated so that I could be ousted from the PM's office and the case against Musharraf would come to a grinding halt," he said. "It was a planned and severe attack. The planners had misjudged me. They thought I would be ready for a compromise."

Sharif said he had seen days "when the gates to the Prime Minister House were hijacked by ruffians, and announcements were made to drag the prime minister out with a rope around his neck".

"But with the help of Allah I stood by my stance," he said.

'Zardari wanted compromise'

Sharif also claimed that former president Asif Ali Zardari had approached him and suggested legitimising Musharaff's 'second martial law' (the November 3 emergency) in an attempt to reach a compromise.

Answering the 128 questions prepared by the court pertaining to the Avenfield apartment's reference, he read out a six-page answer in response to a question asking him why the corruption references were filed against him.

"Zardari, along with a prominent political personality, approached me and suggested that we should legitimise the 2007 martial law, imposed by Musharraf, towards the end of his tenure, through Parliament. He explained to me that such compromises are imperative for stability, but I told him that for the last 65 years we have been making such compromises, and that time has now passed," he said.

The former premier said it was his government which brought Musharraf out of his indemnity provided to him by legitimising his non-constitutional acts but soon after the treason trial he understood that it was not an easy task to bring a dictator in court.

Sharif reiterated that the allegations levelled against him were baseless and asked the accountability court judge to make a just decision, saying "You, I and all others will have to appear before Allah Almighty one day."

Nawaz Sharif questions JIT members' 'impartiality'

Workers convention

Later in the day, Sharif addressed a vibrant crowd at Attock, adds our correspondent.

"If you want to nullify the decision of my disqualification, vote for the PML-N in 2018 general elections," Sharif said at a convention of a party workers.

"They thought they could end Nawaz Sharif by stopping him from heading the PML-N, but it went contrary to their expectations," he said.

"The slogan of sanctity of vote has gained popularity," he said. "We must respect the vote and also get it respected. We will not let anyone desecrate the sanctity of vote anymore."

Sharif said his disqualification halted the progress of Pakistan.

Earlier, Maryam Nawaz addressed the crowd and recalled the days of her and her mother's frequent trips to meet with his father in Attock Fort and her brother Hussain Nawaz in Attock Jail.

"We were made to wait for two hours and sit with death row prisoners in shackles and chains," she said.

Maryam said that 18 years back, Sharif was imprisoned in Attock for standing up for the sanctity of vote. "Generals had asked Nawaz Sharif in 1999 to resign but he refused and faced incarceration."

She said that despite disqualifying Sharif, they failed to lower his popularity among the masses.
COMMENTS (6)
Comments are moderated and generally will be posted if they are on-topic and not abusive.
For more information, please see our Comments FAQ