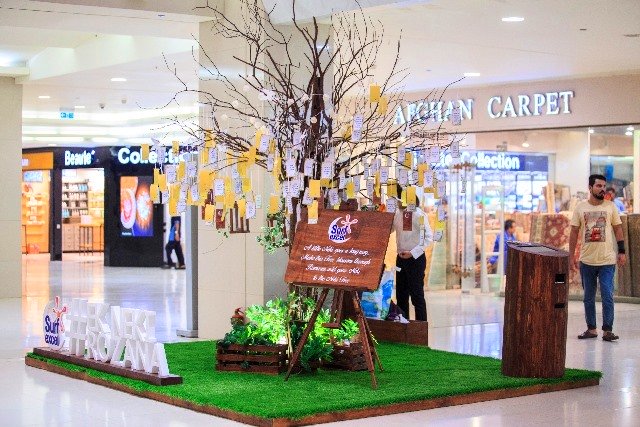 ---
Surf Excel, the popular detergent brand that breaks away from the clutter of TVCs with their array of gleaming wash-lines continues to build on its #Daagtouachaihain mantra. For the past several years, it has been drawing on the innocence of children in its TVCs to inculcate the spirit of goodness in us.

The brand welcomed this Ramazan with #EkNekiRozana TVC in which we see a young boy reunite his estranged father and uncle. However, it went a step further this time around. Interestingly, it gave teeth to its neki program by an on-ground activity in Dolmen mall Clifton Karachi.






As you stroll pass Afghan Carpet on the ground floor of Dolmen Mall, you will come across a barren tree jutting out of a patch of artificial grass. But why is it barren? Are you supposed to water it? You catch sight of Surf Excel's #EkNekiRozana plaque and wonder if this is some environmental initiative.

But it is not.

As you inch closer, you can make out the writing on the wooden board:

"A little neki goes a long way…

Make this tree blossom through

Ramazan, add your neki to the neki tree"




This tree will grow as you shower it with pledges of good deeds so if you have done a neki or intend on doing a neki, hang it on the tree.

The brand says that this tree is a symbol of hope as people will help it grow from a barren state to a fully blossomed beautiful tree. The bigger meaning of this is that we all, as a nation, can come together and with our intentions of doing good for people around us can craft a very beautiful future for the country.




It doesn't take one person with one pledge towards doing good, it takes a nation. Help Surf excel bring this heartwarming idea to life and let's ensure we contribute our pledges to do good.

Send your neki today to number 8833 by typing Surf<space> Your Neiki.