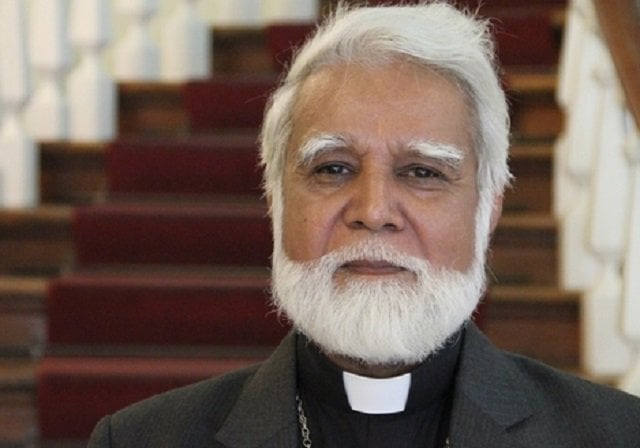 ---
Karachi's Archbishop Joseph Coutts is set to be appointed as a cardinal by Pope Francis on June 29.

The announcement was made during Pentecost celebrations after the holy mass by the Vatican head.

Coutts will be the second Pakistani archbishop to be honoured with the position after the death of cardinal Joseph Cordeiro back in 1994.

He was appointed Archbishop of Karachi, replacing Evarist Pinto in 2012.

Coutts has also served as the National Director of Caritas Pakistan and is actively involved in inter-faith dialogue with Muslims. He is also the president of Pakistan Catholic Bishops Conference.

Christians celebrate Pentecost Sunday across Pakistan

A doctor of philosophy, he can speak several languages including English, Italian, German, French, Urdu, Punjabi and Sindhi.

Earlier today, Pope Francis announced that he would be holding a meeting of the Church's top council to appoint 14 new cardinals next month, including from Iraq, Pakistan, Madagascar and Japan.

In the event of a conclave of cardinals to name a new pope, 11 of the new 14 being under 80 years of age would be eligible to take part.

Pope Francis receives Ajrak from Pakistani-Christian, poses for viral photo

"I am happy to announce that on June 29 there will be a consistory meeting to appoint 14 new cardinals. Their origins reflect the universality of the church," Pope Francis said in an address in Saint Peter's square.

Apart from the Pakistani cardinal, the list includes Iraq's Louis Sako who has often met Pope Francis to discuss the situation in the war-torn country and the plight of its Christian community.

From Madagascar comes Desire Tsarahazana from Toamasina in and Thomas Aquinas Manyo from Osaka in Japan.

As well as having the key role of choosing a new pope, cardinals often also hold the highest administrative offices in the church.