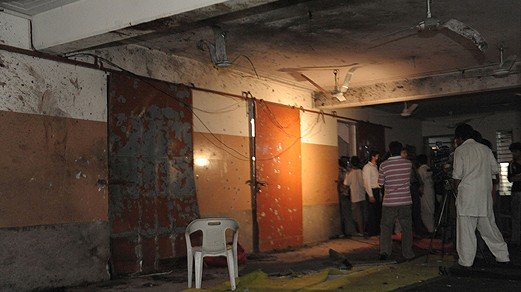 ---
The funeral prayers of 40 people killed in Friday's attacks in Lahore was held in Chenab Nagar area near Chiniot on Saturday while the death toll rose to 93.

A large number of people hailing from the Ahmadi Community attended the burial. A heavy contingent of police personnel was also deployed across the area to avoid any untoward situation.

Moreover, the local authorities have ordered the closure of all trade centres including markets on the occasion.

At least 93 people were killed and over 200 injured as terrorists attacked Friday congregations of the Ahmadis in twin assaults in Lahore.

An FIR has been registered against six terrorists for attacking the worship place of the Ahmedi community in Garhi Shahu, Lahore. Police sources said that the FIR has been lodged under the anti-terrorism act, explosive act, and includes other serious charges.

An FIR into the Model Town attack has not been lodged yet.

Talking to the media, Commissioner Lahore Khusro Pervez said that three suicide bombers in Garhi Shahu and one in Model Town blew themselves up. He said that two terrorists have been arrested from Model Town and a suicide jacket has also been seized from one of them.

The commissioner said that the links of the captured terrorists have not been ascertained yet, though the involvement of India's spy agency RAW can not be ruled out.

Head of Jamaat-e-Ahmedia Mirza Khursheed Ahmed said that the government should provide security to all minorities.

Talking to the media in Chanab Nagar, Khursheed Ahmed termed the attacks in Lahore unfortunate. He said that their community has been receiving constant threats but no security was provided.

Khursheed Ahmed ruled out the involevemnt of foreign elements in the attacks. He added that as citizens of Pakistan, it is the duty of the state to provide them with security.

Federal Interior Minister Rehman Malik, while talking to Express, said that his ministry sent two alerts to the Punjab government about attacks in Lahore.

The United States has condemned the attacks on the worship places  in Lahore.

State Department spokesman Philip Crowley told the reporters in Washington that the attacks are a brutal form of violence against innocent civilians.

Jacques de Maiohas , Head of the International Committee of the Red Cross in South Asia, said that such attacks against civilians are carried out to spread terror. He added that the attacks are highly alarming and unacceptable.

European Union diplomatic chief Catherine Ashton said she was appalled.
COMMENTS (25)
Comments are moderated and generally will be posted if they are on-topic and not abusive.
For more information, please see our Comments FAQ