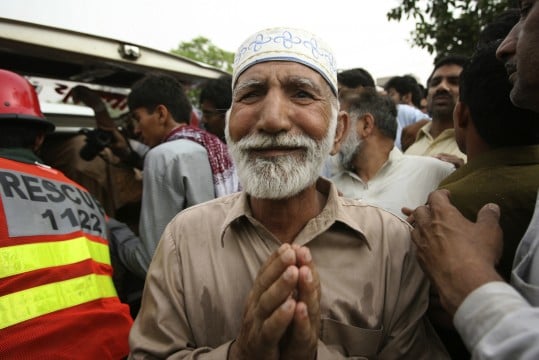 ---
"Someone please find my two sons. They are being held hostage by the terrorists. Is my father alive? My brother is missing and the police are not cooperating with me."

These were some of the concerns raised by people whose loved ones were stranded in the Garhi Shahu siege on Friday.

Several people were wandering helplessly on the road trying to locate their relatives who were trapped inside the worship place during the shootout. Some of them tried to call at their relatives' cell phones but to no avail. The police for security reasons cordoned off the entire area and did not let the people approach the site. Many lost their tempers and exchanged harsh words with the police in attempts to reach  the site. Kishwar Majeed, a 40-year-old woman, was crying for her two sons who were trapped inside the building.

Accompanied by another woman, Majeed kept running from one police official to another trying to know if her sons were alive. With tears in her eye, she approached The Express Tribune. She said that her sons, Fatehuddin and Rizwan Ahmed, regularly offered prayers on Friday at Darul Zikr, the attacked worship place. Her fears intensified with every other gunshot.

Furqan Ahmed, 25, reached the scene in search of his father, 65-year-old Khawaja Ahmed Hasan. He said his father was trapped inside and there was no way he could obtain any information about him. "I'm not even sure he is alive, they (pointing towards the law enforcement agencies' officials) should at least update us on what is going on inside," he said.  He said none of the officials were bothered about addressing the queries.

Mudassir Ahmed, 25, was waiting for his friend Kashif who had just arrived in Lahore in the morning and had accompanied him to the worship house to attend the Friday congregation. He said that Kashif had just entered the hall when firing started and he could not enter. He said that it had been four hours since he was trying to contact his friend on his cell phone but there was no response and he had no idea whether he was alive or dead.

Published in the Express Tribune, May 29th, 2010.
COMMENTS (3)
Comments are moderated and generally will be posted if they are on-topic and not abusive.
For more information, please see our Comments FAQ