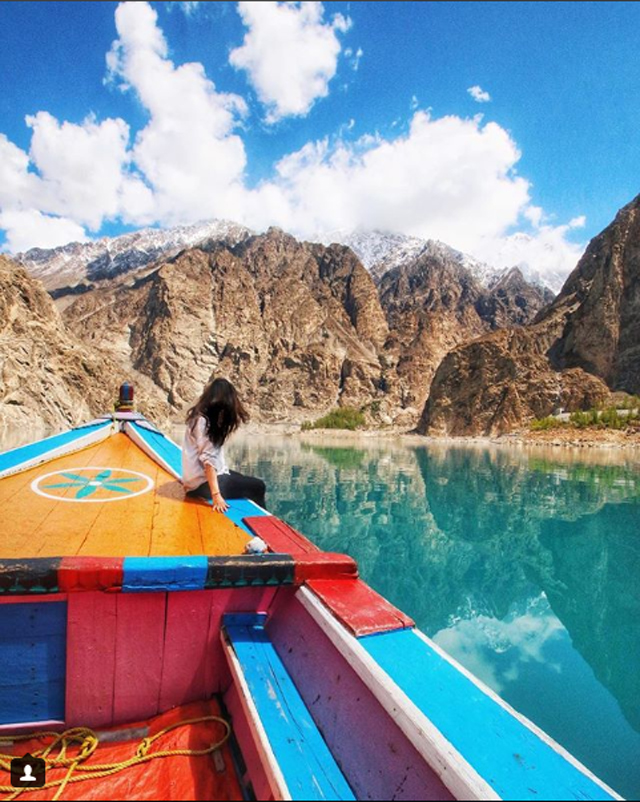 ---
The cup of chai warmed my hands as I stood on a wooden terrace perched above the town of Karimabad. The lush greenery of Hunza Valley spread itself below like a paradise garden in the spring bloom. My hair danced on the gentle breeze. I didn't even attempt to control the wide smile that spread on my face as I remembered that a few weeks ago, everyone I know was doing their best to dissuade me from coming to this slice of paradise.

A couple of months earlier, a message arrived in my Facebook inbox which didn't let me sleep that night. "Why don't you come to Pakistan?" My school friend had been living here for a few years and was the first person to pitch what then seemed like a crazy idea.

Pakistan? All I knew about this country was what Western media told me: I would have to wear a burqa, I would most likely be gunned down by terrorists, and in any case, what's there to see — isn't it just one big desert?

Pakistan in the global tourism industry

But Stephanie insisted that Pakistan is very different in reality. And she was right: when I started doing my own research, I was astounded to find travel reports of epic mountains and rivers, historic cities, lush valleys and generous people. Nothing like the news. So, it was decided. Conditional on my visa being approved, I would be going to Pakistan.

That's how, in mid-April, I landed in Islamabad and soon after, Gilgit, with that cup of chai in the Altit Fort cafe.

You can imagine my relief when I found out for myself that Pakistan wasn't a desert land of sand and dunes. Driving across Hunza Valley, I recognised all around me the freshness of spring in the mountains, just like it was back home.

But there was so much more here, in one single place, than I'd ever experienced before: I joked with my guide about these being the most badass mountains I've ever seen, bursting towards the skies in near-vertical climbs. The green of the trees looked almost artificial, more like a painting than real, growing, blossoming nature — but when I touched the leaves, they were soft and fleshy in my hands. The Karakoram Highway wound itself around the foothills of the mountains, with every turn revealing a different view. The climate was fresh, more like the highlands of Nepal than the no-man's land I'd come to expect.

But there was something I was still apprehensive about: the landscape may be beautiful, but what about the people? I was tense and guarded during my first interactions with locals, not knowing whether it was even appropriate for me to smile — especially as a female traveller.

This turned out to be my most profound culture shock. I could not believe the warmth of my welcome. In Pakistan, I had interactions with strangers unlike I ever did in Europe: I shared a pot of chai sitting around the fire with a group of carpet weavers, who invited me into their workshop — we chatted for the longest time. I shared a scenic barbecue with a few newfound friends in Gojal. I tried raking a field in Misgar with some local ladies, who cheered me on in my efforts. I heard the inspiring story of Pakistan's first female carpenters at CIQAM in Karimabad. I was welcomed into homes and hearts at every turn.

With on-arrival tourist visa, Pakistan looks to revive industry and image

Back in Europe, well-wishers warned me about evil people and intolerance in this part of the world. In Hunza, I found only kindness and generosity.

Amongst everything that took me by surprise, however, there was one outcome I had seen coming from a mile way. Sure enough, I wasn't disappointed: when the first plate of Chicken Karahi landed in front of me, I knew I'd devour everything. By the time the third serving arrived, I was just about ready to give up. Don't even ask me what I think of chai! Let's just say, I think I consumed more tea in that one week in Hunza than I ever did in my life before.

Now, here comes the biggest shock: the people of Pakistan were so welcoming to me, in fact, that at one point in my journey, a video I created went viral on Facebook. Some 700k+ views and several thousand Instagram fans later, social media gave me a new nickname: "Eva Who Loves Pakistan". So there — I'm Eva, and I love Pakistan.



Published in The Express Tribune, May 10th, 2018.

Like Opinion & Editorial on Facebook, follow @ETOpEd on Twitter to receive all updates on all our daily pieces.
COMMENTS (7)
Comments are moderated and generally will be posted if they are on-topic and not abusive.
For more information, please see our Comments FAQ