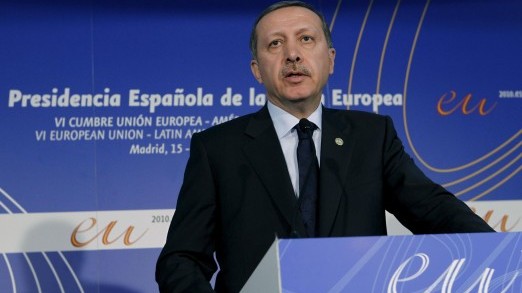 ---
RIO DE JANEIRO: Turkish Prime Minister Recep Tayyip Erdogan said on Friday that the US and other nuclear powers should "eliminate" their arsenals to be "convincing" in the standoff over Iran.

Erdogan, speaking at a UN conference on cross-cultural understanding in Rio, made the comment in the context of a deal Brazil and Turkey struck with Iran over its uranium stocks, and a US push for UN sanctions against Tehran over its nuclear program

"When we hear people talking about stopping Iran getting nuclear weapons - who are they to talk against the idea of having nuclear weapons!" Erdogan exclaimed.

"Those who talk like that should eliminate nuclear weapons from their own countries.... That's the only way to be convincing," he said.

"We will not manage to have world peace with the proliferation of nuclear arms."

Meanwhile, at the opening ceremony of the same conference Brazilian President Luiz Inacio Lula da Silva reiterated his insistence that a "negotiated solution" be found with Iran over its nuclear program, as the US and other powers mulled sanctions.

Lula said he "went to Iran in search of a negotiated solution" to the international standoff over the program, which the US claims - over Tehran's denials - is a cover for building atomic weapons.

The Brazilian president also stated that he saw nuclear arsenals as "obsolete" and highlighted his country's constitutional ban on possessing such arms.

The comments came a day after US Secretary of State Hillary Clinton said "we have very serious disagreements with Brazil's diplomacy vis-a-vis Iran."

The US is pushing a UN resolution to punish Iran with a fourth set of sanctions after deeming that it is not doing enough to meet international demands to show its nuclear program is peaceful.

Lula and Turkish Prime Minister Recep Tayyip Erdogan on May 17 extracted an agreement from Iran to deposit around half its stock of low-enriched uranium in Turkey in exchange, later, for nuclear fuel enriched to a level for medical - but not military - use.

They hailed the deal as a diplomatic breakthrough, but Washington subsequently said the accord did not go far enough, and the sanctions resolution was submitted to the UN Security Council, upon which Brazil and Turkey both sit.

Published in the Express Tribune, May 29th, 2010.
COMMENTS
Comments are moderated and generally will be posted if they are on-topic and not abusive.
For more information, please see our Comments FAQ