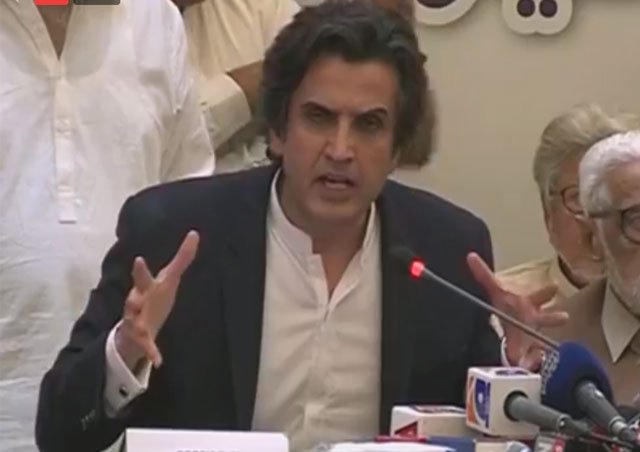 ---
LAHORE: Pakistan Muslim League-Nawaz's (PML-N) lawmakers from South Punjab, who recently parted ways with the ruling party, are all set to join Pakistan Tehreek-e-Insaf (PTI). A formal announcement on the amalgamation of Janoobi Punjab Suba Mahaaz (JPSM) into PTI is expected today.

Speaking to The Express Tribune on Tuesday, PTI spokesperson Fawad Chaudhry said an agreement has been reached among leaders of both parties. After a meeting with PTI Chairman Imran Khan, leaders of the JPSM would make an announcement of their merger in a joint press conference on Wednesday (today).

Seraiki iceberg: Eight lawmakers jump PML-N ship

Another PTI leader also confirmed that the JPSM supremo Khusro Bakhtiar along with defected lawmakers of the ruling PML-N, including MNAs and MPAs, has joined PTI. The formal announcement would be made in a joint press conference which is expected soon, he added.

He disclosed that both parties were in contact after PTI's big power show in the provincial capital last month. Both the parties have agreed to contest upcoming general elections alongside each other, he pointed out.

Meanwhile, a spokesman for JPSM told The Express Tribune that deliberations were still underway as some main concerns of his party's leadership were not yet addressed. The biggest concern of the JPSM was to include the formation of South Punjab province in the first 100 days if PTI wins the election.

Though, he said, PTI spokesperson has announced that agreement has been reached the JPSM leadership was scheduled to meet the PTI chief today.

"The JPSM leadership wanted to ensure that the formation of a separate province of South Punjab should be included in the party's strategy in the first 100 days. Otherwise, there is no use of this affiliation or merger. The JPSM leaders want to initiate groundwork before the general elections so once the PTI takes charge of the government it can swiftly make South Punjab a separate province," he explained.

Earlier last month, in a major blow to PML-N, eight legislators parted ways with the ruling party. They also announced launching a mass movement for the sole purpose of making South Punjab a separate province.

"Making South Punjab a separate province is a one-point agenda," said Bakhtiar, flanked by other disgruntled parliamentarians during a news conference.

"The poverty rate in South Punjab is over 51%. I admire development in the provincial capital but I cannot forget the pain and sufferings of South Punjab where my ancestors are buried," he remarked.

JPSM Secretary General Tahir Bashi Cheema has said that his party has single point agenda of separate province for the people of underprivileged people of South Punjab. "We have invited all national parties to join our cause. However, only the PTI has expressed its seriousness to fulfill the long-standing demand of people of South Punjab. Earlier, Pakistan Peoples' Party (PPP) had showed its interest to constitute a separate province for the people of South Punjab but it failed to materialise the demand," he indicated.

Wheeling and dealing: PML-N nominates ex-PPP minister for top RY Khan slot

Cheema said the ruling party has least interest in forming a separate province of South Punjab. Ruling PML-N always make tall claims and false promises. People of South Punjab are craving hard for even a few drops clean drinking water. Not the time has ripe to initiate decisive movement and fulfill the dream of citizens of South Punjab, he underscored.

The JPSM leader highlighted that the Punjab government is spending billions of rupees, even higher than the total budget of South Punjab, on construction of metro train for hardly quarter-a-million people, while 30 million population of South Punjab is being denied from their basic rights. "It is public money on which people of South Punjab have equal right. Health, education and other basic facilities are equally important for the people of South Punjab and it is their basic constitutional right," he said.

Cheema said deliberations are underway with PTI leadership and his party will never accept anything below a separate province of South Punjab. "If we failed this time, the dream of a separate province will never come true," he concluded.
COMMENTS (2)
Comments are moderated and generally will be posted if they are on-topic and not abusive.
For more information, please see our Comments FAQ