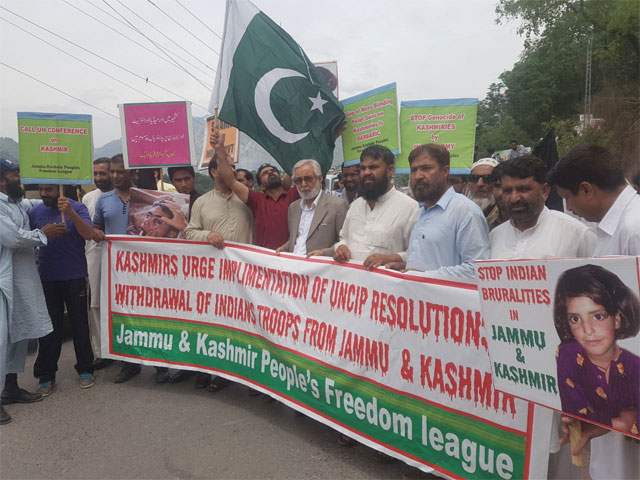 ---
MUZAFFARABAD: Jammu and Kashmir People's Freedom League (JKPFL) on Saturday held a protest demonstration at the main secretariat road demanding justice for the eight-year-old Asifa who was raped and murdered in Kathua district of Indian Occupied Kashmir (IOK).

Holding placards and banners inscribed with anti-India slogans, participants of the rally marched from Central Press Club to Burhan Wani Chowk near Domel.

The protesters raised slogans against India and accused the Bharatiya Janata Party (BJP)-backed administration in Jammu of trying to play down the rape and murder case of Asifa to save the culprits.

Rape and murder of eight-year-old Muslim girl heightens religious tensions in India

The protesters also demanded withdrawal of troops from Indian Occupied Kashmir (IOK) and implementation of UN Security Council's resolutions in Kashmir.

JKPFL Chairman Muhammad Farooq Rehmani, while addressing the rally, urged the UN secretary general to play his role for peaceful resolution of the Kashmir dispute in line with the Security Council resolutions and exert pressure on India to bring the culprits to justice.

"Kashmir's intifada has entered into a decisive phase and it is now the moral responsibility of justice loving nations, including Pakistan, to approach world forums for a lasting solution to this vexed issue," said Rehmani.

"Children and women are abducted, raped and killed, and youths have been blinded because of pellet guns – all this in a bid to silence the voice of freedom. The latest incident of Kathua has brought the truth of present day Kashmir," he lamented.

Hundreds of women protest in AJK against Asifa rape, murder

The JKPFL chairman called upon the European Union, the Organisation of Islamic Cooperation and other world bodies to take notice of Indian state terrorism in Kashmir where school-going children were being targeted to quell the freedom struggle.

Speaking on the occasion, Vice President Pakistan Tehreek-e-Insaf (PTI) AJK Khawaja Farooq Ahmad said that if North and South Korean leaders can sit together to discuss their issues, why leaders of Kashmir were not allowed meeting each other.

"It is time for the world community to come forward and put pressure on India to settle the Kashmir dispute as per the wishes of the people of Kashmiris," the PTI leader said.

Girls, as well as the children of IOK schools who have been the victim of pellet guns, also joined the protest.