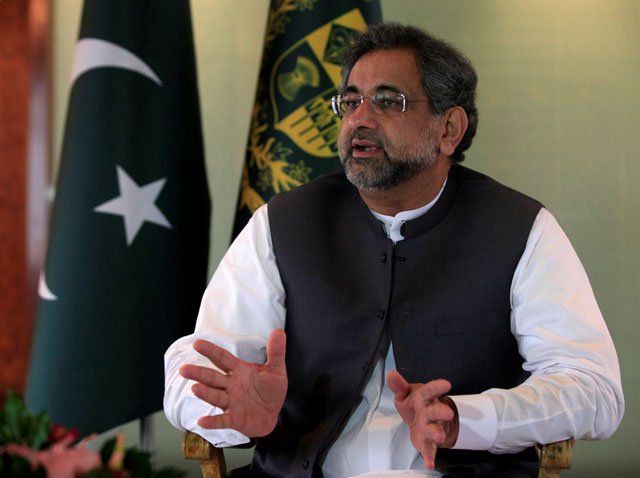 ---
LAHORE: Prime Minister Shahid Khaqan Abbasi has said that judiciary cannot run the government, the prime minister cannot run the courts and the Election Commission of Pakistan (ECP) cannot run the state.

He said this on Monday while addressing a political gathering after performing the groundbreaking of Narowal-Sialkot-Lahore Motorway in Narowal.

Reminding all state institutions to work within their constitutional domains, the PM said that the government would continue to work till the last moment of its tenure and serve the people.

Without being specific about the ECP, he said if someone contended that state work was pre-poll rigging, "I will not accept it". He said the ECP should focus on conducting elections in 60 days.

ECP dismisses PM Abbasi's statement casting doubts over upcoming polls

Repeating the assertion of former prime minister Nawaz Sharif, he said elections would not be delayed in any case. "We will move courts and reach out to the people if any attempts are made to delay the general elections. Democracy is the only way forward for Pakistan," he said.

Abbasi said national progress was hindered by court rulings and 'misdirected' actions of the National Accountability Bureau (NAB). Remarks and judgments from courts and NAB's 'activism' had already deterred government officers from working.

"We never challenged verdicts of courts… we have respected, tolerated and implemented all court decisions. But history and the people of the country are yet to make rulings," he said, adding that Khawaja Asif might no longer be the foreign minister after his disqualification by a court, but his popularity had doubled.

He said Sharif might not contest the polls, but all of PML-N's votes would be cast for him. He said whenever a serving prime minister was de-seated, political workers and lawmakers loyal to him tended to wander away, "but under Nawaz Sharif's leadership, the party stands united".

The PM said Pakistan would have been in a much better position if Sharif had continued to serve as PM. The country suffered instability because of Sharif's disqualification, he said, adding that the deposed PM had proved his credentials to the people of Pakistan.

Abbasi said the PML-N did not believe in politics of accusations and blame game. "We believe in [practical] work," he stressed.

He said his party was competing with those who had done nothing for people. In 2013, he said, Sharif had decided that his government would not just confine itself to performing groundbreaking ceremonies, but would ensure completion of projects in time.

The PM maintained that the Musharraf regime and the Zardari government had ample resources at their disposal, but neither could execute any major project. To the contrary, the PML-N government completed numerous projects left unfinished by previous governments, he claimed.

Referring to foreign investment attracted by the PML-N government, he said that once the country was unable to attract an investment of $65 dollars, "but now projects worth $65 billion are fast nearing completion".

PM promises FATA reforms within four weeks

Prime Minister Abbasi was accompanied by Minister of State for Information and Broadcasting Marriyum Aurangzeb, former federal ministers Zahid Hamid, Khawaja Asif and other political leaders.

Commenting on the Narowal-Lahore-Sialkot Motorway, the PM said the Rs16 billion project would serve as a milestone in the area's development with far-reaching effects.

Later, federal Interior Minister Ahsan Iqbal said the PML-N would thwart all conspiracies and ensure continuity of economic reforms.

He said that Peshawar had been ruined because of the incomplete Rapid Bus project. He said that real change required practical work.

Iqbal said that the PML-N government had completed a motorway network spanning 1,700 kilometres, and by next year, this network would stretch over 2,200 kilometres.

The minister also praised the prime minister for completion of energy projects which helped in overcoming energy shortages.

Earlier, the prime minister performed the groundbreaking ceremony. The 73km-long, four-lane link highway would significantly reduce the travel time between Lahore and Narowal district.

The dual carriageway project would connect Narowal, Narang Mandi and adjoining areas with the motorway network through the Lahore-Sialkot Motorway.