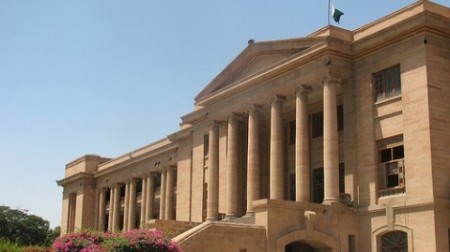 ---
KARACHI: The Sindh High Court has issued notices to several officials for failing to take action on the water board's complaints against water 'thieves'.

A division bench, comprising Justices Amir Hani Muslim and Syed Zakir Hussain, issued notices to the Sindh advocate-general (AG) and prosecutor-general (PG), home secretary, DG Rangers and SHOs of nine police stations, while it also directed the AG and PG to file comments during the next hearing.

The Karachi Water and Sewage Board MD filed a petition against the Sindh government for not filing FIRs against the suspects who steal water.

Advocates Abrar Hasan and Syed Masroor Ahmed Alvi submitted that the water board is a government-controlled utility providing the basic amenity of potable water and other services for conservancy and sewerage.

They said that Karachi is exposed to the menace of illegal water hydrants operating in different parts of city by the resourceful tanker mafia. These groups are minting millions by selling illegal water through tankers, causing irreparable damage to the water board, they added.The water board has disconnected some of these illegal hydrants but the mafia had them reconnected, the advocates said.The managing director of the board met officials from Sindh Rangers and Capital City Police Office, Karachi, and agreed to launch an operation against the owners of these hydrants. The operation was launched under the directives of city nazim, additional vice-chairman and managing director of the water board in Korangi-Chakra Goth, New Karachi-Saba Cinema, Manghopir, Landhi-Sherpao Colony till September 16, 2009.

Illegal connections to unauthorised hydrants were disconnected, FIRs were registered against the owners and all departments were united in their efforts to remove these hydrants in the jurisdictions of Ibrahim Hyderi, Zaman Town, Sukhia Goth, Sindh Muslim Society, Shamim Crush Plant, Gulistan-e-Tauheed, New Karachi, Manghopir and Landhi police stations.

The advocated said, however, that despite these orders no outcome could be achieved. They prayed the court to direct the home secretary and the police to support the water board.

Published in the Express Tribune, May 29th, 2010.
COMMENTS
Comments are moderated and generally will be posted if they are on-topic and not abusive.
For more information, please see our Comments FAQ