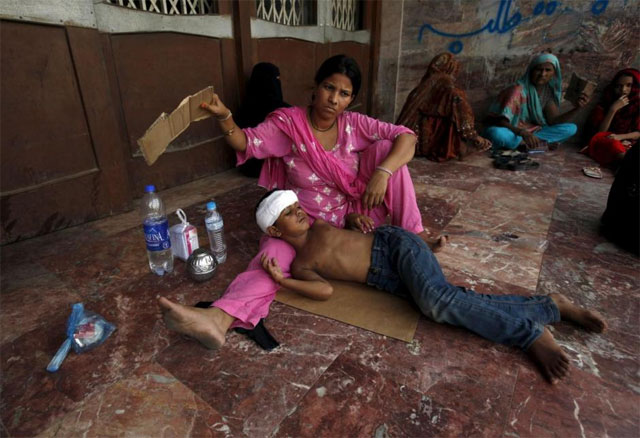 ---
KARACHI: As the port city has been hit by a heatwave, residents are advised to take precautions to avoid heatstroke while venturing outdoors.

The health department issued a red alert for both Thursday and today (Friday) after the Pakistan Metrological Department's warning for the Karachi division. The temperature in the metropolis soared to 44˚ Celsius on Thursday and the Met department has forecast that the heatwave will continue today, with temperatures reaching 42˚C.

Karachi hit by heatwave as temperature reaches 44˚C

Here's how you can take care of yourself in this scorching heat.



Slow down and avoid strenuous activity which will stimulate your body and rise its core temperature


When temperature is high always wear appropriate footwear. Hot asphalt can damage your feet and increase body temperature


Never leave children in a parked car, even with windows rolled down. The car will become a hot furnace in no time and lead to total heat strokes


Use chrysanthemum tea. Practitioners say chrysanthemum tea is a cooling herb which clears the head


Eat small meals but often


Avoid foods that are high in protein, which increase metabolic heat


Run cold water over your wrist for five seconds every now and then. It will help cool the blood in the main vein


Sleep on a feather or down pillow with a cotton pillowcase, synthetic pillow retains heat


Replace your usual body moisturiser with cooling aloe-vera after sun products



These precautions are especially for those who think venting on Twitter will eradicate global warming.


During this heatwave, please remember to dress for the body you have, not the body you want😂😭

— Smol'nt (@Wottbruh) May 4, 2018


https://twitter.com/Usamiii99/status/992035379271360515


One has to make a helmet of watermelon 🍉 like "Nadan Nadia" to put it on the head during this hot weather in #Karachi 😑 #HeatStroke #HeatWave

— Masood Mirza (@masood_619_) May 3, 2018


[/fbvideo]