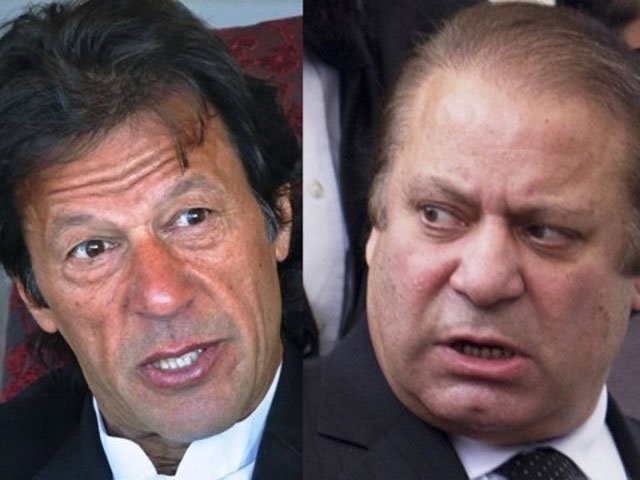 ---
While Nawaz Sharif refuses to relent in his criticism of the security establishment, Pakistan Tehreek-e-Insaf Chairman Imran Khan has alleged that the military had helped the deposed prime minister rig the 2013 general elections.

In an interview with Geo TV on Thursday, the cricketer-turned-politician alleged that in Punjab, the returning officers (ROs) were not allowed entry into the polling stations during the consolidation of votes, saying that military men had made it possible.

"Be it the elections of 1990, 1996 or 2013, Nawaz Sharif had always played with his umpires. The military, the judiciary and the masses all had helped him," Khan claimed.

Criticising Sharif's ongoing rants against the security establishment, the PTI chief said: "Sharif is not complaining about the military's dissent, rather he is complaining about the military's lack of support for him."

Sharif rejects competition with Imran, Zardari

"Nawaz Sharif's problem lies in the recent neutral stance adopted by the military and the judiciary."

Responding to the former prime minister's recent remarks on freedom of press, the PTI chief claimed that Sharif had vowed to conclude the mission of dictator Gen Ziaul Haq. "Nawaz Sharif never believed in freedom of press, not until recently."

The PTI chief parried a question regarding the possibility of Chaudhry Nisar Ali Khan joining the PTI. "Given the current circumstances, timely elections appears to be a distant dream," he added.

Earlier this week, Sharif said at a public rally that neither the PTI nor the PPP was his main political opponent, rather his fight is against the "unseen forces".

Though Sharif did not mention who these "unseen forces" were, he was believed to be referring to the security establishment.
COMMENTS (1)
Comments are moderated and generally will be posted if they are on-topic and not abusive.
For more information, please see our Comments FAQ