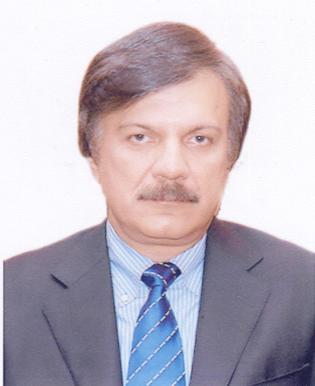 ---
ISLAMABAD: Advisor to prime minister and Federal Minister Senator Haroon Akhtar has said that 2013 economic conditions should be referred to in order to determine the economic position of the country.

"The Opposition's criticism of economy at the moment is baseless…at present, all the major economic indicators are constant and improving. Criticism on economic gains reflects biasness and base knowledge of economy," said Haroon Akthar.

He said that the GDP was 3.68 per cent five years ago but the GDP has increased and now stands at 5.79 per cent. He added that the progression in industry from 0.75 per cent has escalated to 5.80 per cent.

The federal minister said that agricultural debts amounting Rs196.12 billion in 2013 were dispensed and now the payment of agricultural debts has reached Rs569.97 billion as compared to the Rs1,001 billion rupees target of agricultural debts for 2018.

Amid tall claims, 131,000 active taxpayers jump ship

Akthar said that the wheat crop yielded in 2013 was around 24.21 million tonnes in 2013, which has reached 25.49 million tonnes. He explained that in 2013, the rice crop which stood at 5.54 million tonnes has reached 7.44 million tonnes, jowar which stood at 4.22 million tonnes now stands at 5.70 million tonnes and sugarcane yield from 63.75 million tonnes rose to 81.10 million tonnes.

Haroon Akhtar indicated that during five-years, consumer price index (CPI) from July-March 2013 went down from 7.98 to 3.78 in 2018 while inflation from 10.05 has reduced to 4.45 per cent.

Akhtar said that the foreign exchange from 11.85 billion USD in 2013 has reached to 16.91 billion USD in 2018. The per capita income from 1,333 USD in June 2013 has reached to 1,640 USD in April 2018.

Opposition members lambast Karachi mayor for 'poor' performance

He also relegated attention towards increasing the Benazir Income Support fund from Rs46.5 billion to Rs121 billion. He said that the unemployment rate from 6.2 per cent has gone down to 5.9 per cent. The Pakistan Task Exchange index from 19,916 has increased up to 45,877 and market capitalization from Rs5.049 trillion has increased up to Rs9.449 trillion.

Walkout

Leader of Opposition in Senate Senator Sherry Rehman led the walkout by joint opposition due to lack of interest and attendance by treasury benches on the budget debate. Senate Chairman Sadiq Sanjrani was forced to adjourn third sitting of the ongoing budget session.

"Less than a dozen treasury Senators are present in the House, while whole front row where government ministers sit is vacant," Rehman pointed out and added that it is useless to suggest recommendations to the government on the Finance Bill 2018 when both federal and state finance ministers are absent.

Dissatisfied with size of Pakistan's economy, Dar authorises World Bank study

The government's negligent approach towards the house was also evident from the almost 35 minutes long speech of Minister for Climate Change Mushahid Ullah Khan who discussed everything except the budget despite repeated reminders from the Sanjrani to keep his input limited to budget debate.

His speech was completely out of focus and was apparently aimed to infuriate opposition Senators especially those belonging to Pakistan Peoples Party (PPP). He not only called names to a senior PPP senator Maula Bakhsh Chandio but also alleged that they became senators by giving out bribes to MPAs. He hurled personal attacks on the leadership of PPP though he was constantly interrupted by the opposition senators.

He focused on describing PPP leadership's close links with notorious gangster Uzair Baloch during the budget debate and PPP Co-chairman Asif Ali Zardari's support for former military dictator Ziaul Haq.

What is wrong with Pakistan's economy?

"If one will call former premier Nawaz Sharif Na-Ehal (disqualified) based on apex court judgment than he/she should admit that Zulfiqar Ali Bhutto was a murderer as declared by the court in the past," said Mushahid Ullah Khan.

He said that Pakistan Muslim-League-Nawaz (PML-N) would again form government given the general elections were not rigged by the 'powerful'. He recalled that how successive governments in Sindh played their active role to deteriorate law and order situation in the province.  He added that it was the government of PML-N that normalised the situation in Karachi.

Senate Chairman obliterated several remarks of the Khan's speech from the proceedings. Mushahid Ullah Khan left the House soon after his speech.

Senators including Sitara Ayaz of Awami National Party (ANP) Sassui Palijo of PPP, Faisal Javed and Azam Swati of PTI also spoke on the occasion and criticized the budget saying it was anti-poor. PTI Senator Faisal Javed said legislators from both houses were not made taken into consideration while preparing the budget for 2018-19.

Pakistan's economy quietly rises even as terror makes headlines

Sassui Palijo lamented that peanuts were given to Sindh province out of Public Sector Development Programme. "This budget is unconstitutional and anti-poor," she said. ANP senator Sitara Ayaz criticized the government for imposing tax on tobacco growers which would impact farmers in Khyber Pakhtunkhwa.

PML-N senator Lieutenant General (retired) Abdul Qayyum said that there were only a few countries across the world who present surplus budgets while strong economies like USA, Japan and China have deficit budgets.

He said that PML-N during its five years regime took less foreign loans than the last government of PPP adding loans obtained were utilized for developmental projects.