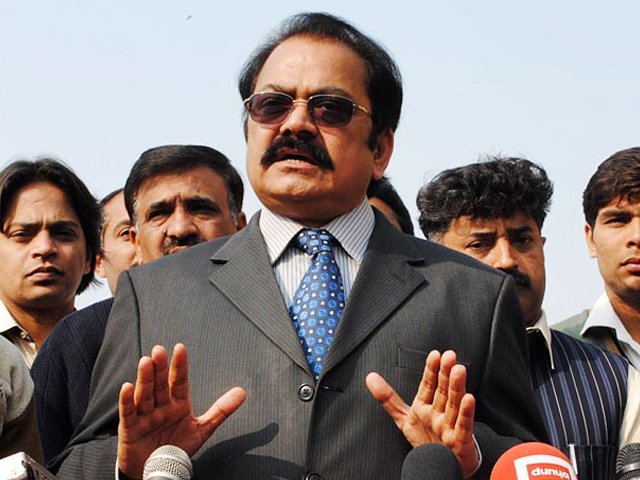 ---
LAHORE: A legislator from the Pakistan Tehreek-e-Insaf (PTI) has demanded that the government remove Punjab Law Minister Rana Sanaullah for his derogatory comments on the PTI's women workers who assembled at a public gathering in Lahore on Sunday.

In a bid to demean the PTI's power show held at historic Minar-e-Pakistan, Rana Sanaullah sparked damning outrage due to his misogynist statement. Commenting on the rally, Sanaullah had raised 'concerns' over the 'character' of the PTI's women supporters.

The comments received severe backlash from all quarters. Taking to micro-blogging site Twitter, the PTI chief Imran Khan strongly condemned the filthy language used by Sanaullah.

But on Tuesday the PTI MPA Dr Murad Rass submitted a resolution in Punjab Assembly, contending that the party strongly condemned the words used by the law minster for the PTI female workers and demanded that Sanaullah should tender an apology.

"The use of derogatory language reflects the mental level of a provincial law minister. The Pakistan Muslim League-Nawaz (PML-N) leaders have become nervous owing to the huge gathering at Minar-e-Pakistan," he said.

PML-N 'will not yield' to calls for Sana's removal

He said Sanaullah has been using derogatory language both against the PTI's leadership and its women participants. "Sanaullah is the one against whom an FIR had been registered for using derogatory language against former PM Nawaz Sharif's daughter Maryam and wife Kulsoom," he added.

He said Sanaullah should be given lessons on woman's respect. "A law minister who does not have respect for woman is not eligible for this slot. It is opinion of respected members of the house that the law minister be immediately removed from the slot and action be taken against him," he added.

Talking to The Express Tribune, Rass said the PML-N leaders routinely incite people against state institutions and speak against the PTI's women who take part in public gatherings. "The PML-N leaders are seeing defeat in coming general polls," he added.