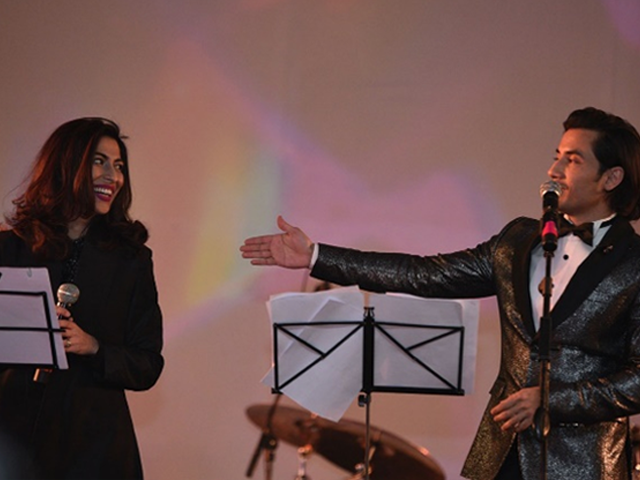 ---
LAHORE: Following allegations of sexual harassment from Meesha Shafi, Ali Zafar sent a legal notice against the Aya Lariye singer. Denying all claims of inappropriate conduct, he deemed Meesha's accusations as "baseless."

From being great friends to worst enemies, their friendship fell apart quite rapidly. Here is a timeline of events, showing the ups and downs in their relationship from 2016 to 2018.

March 2016:




The Sun Ve Balori singer uploads a picture of herself and the accused on her official Facebook page from what appears to be a party hosted by the latter for his wife, Ayesha Fazli, at their private residence.

March 2016:




Meesha then posts a picture on her now deactivated official Instagram account with fashion designer Hassan Sheheryar Yasin and Hair Stylist Juju Haider – the picture was taken by Ali as per Meesha Shafi's caption credit.

July 2016:




Meesha and Ali attend a private screening of a film

August 2016:




Meesha posts a picture on her Instagram account featuring the singer along with fashion designers HSY and Kamiar Rokni from Lux Style Awards.

August 2016:




In the same month, the Lariyan singer also posts a picture on Facebook with the Teefa In Trouble star and Ali Kazmi after meeting up with them in Toronto. 

August 2016:




Mahmood Rahman, Meesha's husband is allegedly hired by Ali as his sound engineer for a concert in Toronto.

October 2016:




Ali and Meesha perform at Hum Style Awards independently. Meesha posts a picture from the rehearsals which also includes Ali.

21 December 2017:




Meesha attends a jam session at Ali's residence in advance of a concert they are to perform together. It is allegedly at this jam, according to an interview with Meesha, that a second and final incident of harassment occurred. Details of the first instance of harassment are unknown.

December 23, 2017:




Meesha performs her concert at an event in Islamabad. Ali performs his concert at the same event independently. They both come together at the end to perform.




The same night of the concert Meesha tweets and posts a picture from the concert. The tweet has since been deleted.

February 2018:




The singers both independently attend a private party by a fashion designer in Lahore. Eye witness accounts from those present, who spoke to The Express Tribune, suggest that the two were seen dancing together.

April 19, 2018:


Sharing this because I believe that by speaking out about my own experience of sexual harassment, I will break the culture of silence that permeates through our society. It is not easy to speak out.. but it is harder to stay silent. My conscience will not allow it anymore #MeToo pic.twitter.com/iwex7e1NLZ

— MEESHA SHAFI (@itsmeeshashafi) April 19, 2018


Meesha takes to social medium Twitter to allege that Ali has physically harassed her on multiple occasions.

April 19, 2018:


April 19, 2018


Ali takes to Twitter to respond to Meesha's allegations and says he will take her to court.

As the events unfold, many celebs came forward to support either Ali or Meesha.

While some claimed to ahve known the Jhoom singer for decades and believe he is incapable of doing such a thing, many others backed Meesha for calling out fellow colleagues.

April 20, 2018:


The sick mentality of those commenting on an issue as serious as sexual harassment as casually as they are just shows where the root of this problem exists - in our minds. We will continue to breed harassers for as long as we continue to desensitise this issue.

— Mahira Khan (@TheMahiraKhan) April 20, 2018


Mahira Khan speaks up about how imperative it is to share the stories of sexual harassment.

Arpil 22, 2018:

https://twitter.com/rosemcgowan/status/987804025885220870

An avid #MeToo campaginer, who brought the downfall of Hollywood mogul, Harvey Weinstein also applauded Meesha for speaking out.

April 27, 2018:


#timesup #speakup #metoo pic.twitter.com/CsmMoyeYcl

— Sanam Saeed (@sanammodysaeed) April 27, 2018


Sanam Saeed lauds Meesha for her stance.

April 29, 2018:


A woman's heart, soul, and body belongs only to her. I applaud Meesha Shafi's bravery in telling her story of sexual harassment. To say that this a publicity stunt is abhorrent. She is a pioneer! She is also my niece! LET'S STAND WITH HER! @itsmeeshashafi #MeToo#TimesUp pic.twitter.com/G6W3a8UcAf

— Faran Tahir (@farantahir_) April 28, 2018


Pakistani-American actor, Faran Tahir, who has worked beside Robert Downey Jr in Iron Man called Meesha a pioneer and vowed to stand with her.

April 19, 2018:

https://www.instagram.com/p/BhwrZ5YHcG9/?taken-by=official_mayaali

Celebrity and Ali's co-star for Teefa in Trouble, Maya Ali comes out in support of the actor with a public statement.

April 20, 2018:




Meesha's former manager speaks out

April 20, 2018:




Film star Resham speak out to television media in support of Ali Zafar

April 20, 2018: A public statement is issued by the head of an NGO for victims of sexual abuse, supported by Ali Zafar:

April 25, 2018:


Legal team of @itsmeeshashafi confirms the receipt of legal notice, sent by Ali Zafar, however, dispels its contents in entirety, as being false. Allegations of sexual harassment against Ali Zafar are based on truth thus the issue of defamation doesnot arise at all.@nighatdad

— Muhammad Ahmad Pansota (@Pansota1) April 25, 2018


Meesha's lawyer confirms she has received a legal notice on account of defamation.

Have something to add to the story? Share it in the comments below.
COMMENTS (4)
Comments are moderated and generally will be posted if they are on-topic and not abusive.
For more information, please see our Comments FAQ