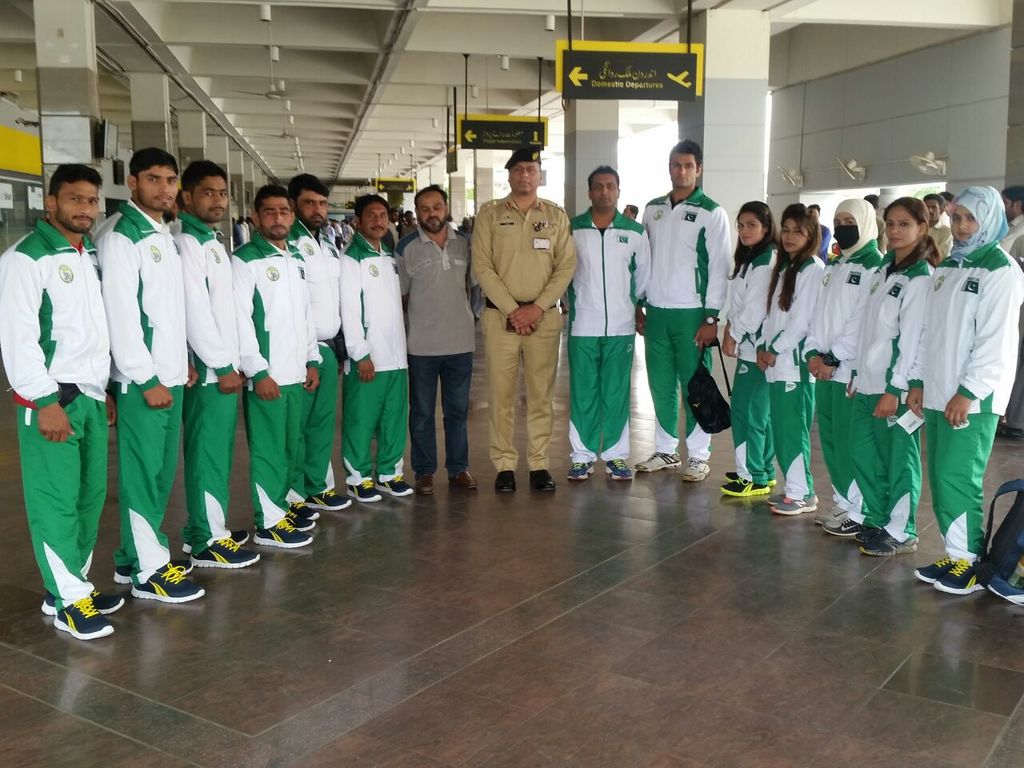 ---
KARACHI: Pakistan wrapped up the South Asian Senior Judo Championship in second position with two gold medals, four silver and four bronze in Nepal on Monday.

Pakistan's 2014 Commonwealth Games silver medallist Shah Hussain Shah took gold in the +100kg event, successfully defending his title, while FATA youngster Qaiser Khan took one in the -90kg competition. The women also shined in the -52kg event with Maryam winning silver in the final, while Humaira Ahsiq, who won the gold medal at the championship in 2014, finished with a silver in the -48 kg event, whereas Babar Hussain took silver medal in the -66kg competition.


Judokas Shah, Qaiser bag gold for Pakistan at South Asian Championship


Nadeem Akram then added to the medal tally with his bronze in the -73 kg, while Muhammad Abbas grabbed another bronze in the -81 kg and Beenish Khan rounded it off with her bronze medal in the -78kg.

According to Pakistan Judo federation (PJF) official Masood Ahmed, the performance has been satisfactory but he felt Pakistan could have done better if they had sent an athlete in the -100kg event.

"It is a good performance, but we could have done more," Ahmed told The Express Tribune. "We had a good chance in the -100kg. In South Asia, heavier categories are easier to win in as compared to the lighter ones. The selection committee had decided to send an athlete in the 60-kg event, and I felt that was a miss."

On the last day of the championship, Pakistan won silver after defeating India in the men's team event. Akram and Shah won their matches in the team event to ensure that even Qaiser's defeat left the tie 3-2 in their favour.

The women also bagged a bronze medal in the team event, losing to India in the semi-finals.

The PJF admitted that the camp given to the athletes was a short one.

"It was a 15-day camp and it wasn't that long so the performance has been good given the situation," said Ahmed. "Our local coaches trained the players."

The PJF will also be looking to get a foreign coach as they will be requesting the International Judo Federation for help.

Earlier, Iranian coach Sajjad Kazemi was coaching the players in Peshawar.