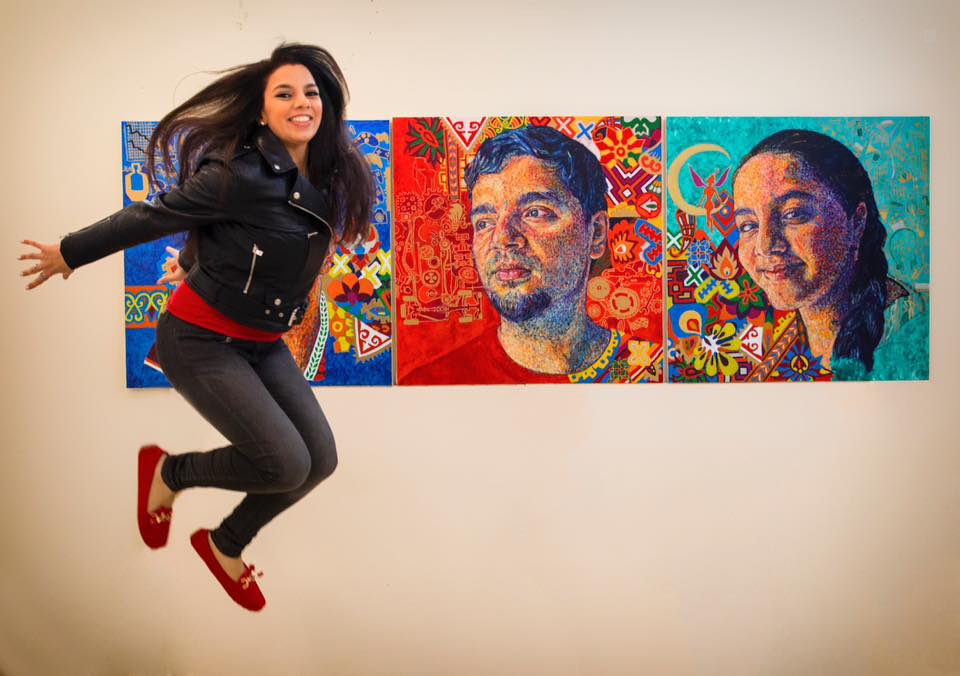 ---
BAHAWALPUR: Meeting Amina Ansari can be hard work. Not that there is anything unpleasant about her, not at all. On both occasions that we have met, it was entirely enjoyable. But the hard work is decoding the density of what is coming across from her side; a packed stream of consciousness as colourful as her artworks.

Amina would stand out in any crowd, like a moving palette. Assertive and articulate, she describes herself (in writing) as "a different young lady who walks and talks in a strange, enthusiastic, childlike manner, observes the world and questions it" And that she, indeed, does. The last time we met, she talked of the assorted feuds and spats inside the world of Pakistani art, the jealousies and the catfights. But the field of art tends to be like that the world over so why should Pakistan be any different? Amina has the capacity to ruffle whole sacks-full of feathers, and then some.




Perhaps the real marker that Amina is putting down is that of originality. Having trailed through innumerable exhibitions and gallery openings over the last 20-odd years, I can report a depressing sameness about the experience. That there is talent there is no doubt of, but once talent bumps up against teaching in Pakistan, the sense of challenge and originality seems to drain away. And the bête-noir of all education is the absence, indeed the avoidance, of critical thinking which handbrakes on creativity and originality.

Lahore Biennale Youth Forum holds art workshops

A great deal of what I see is derivative, some of it almost to the point of plagiarism, and there is very little that stretches my eye or pricks my imagination – sort of like art stuck in first gear. By contrast, Amina drives a truck through the walls of your living room; an in-your-face dollop of, well…faces for the most part. She does a lot of faces. Many of them are commissions; she has to earn a living, put food on her own table and clothes on her back. People pay her to paint them and she does it rather well.

There are slightly unsettling skewed perspectives, images within images, that are worn like badges representative of the persona of the subject. An elephant next to Asma Jehangir, who looks at us over her left shoulder, a backwards glance on a life where there are going to be no more birthdays. There is Abdul Sattar Edhi edged with a deck of playing cards, Benazir Bhutto with a harder face than usual, being attended by a dove. And all of this is held together with painterly finesse. Take a magnifying glass to the brushwork.




Then there are the sculpturals – mostly they are tailors dummies that become a canvas in a way that destroys the concrete outline of the figure, rather like the dazzle camouflage that was so effective on ships in the first and second World Wars. They became invisible to the submarines that hunted them. The Ansari sculpturals become invisible but visibly so, hijacking form and turning it into colour and movement. I have a corner of my library earmarked for one.

Art serves many functions in our lives, both knowingly and unknowingly. Few of us can afford to buy originals and a tiny proportion of the Pakistani population ever goes to a gallery to look at paintings or sculptures. There is little tradition of art as recreation. Artists live in an enclave and are brought out periodically for an airing by the media, to demonstrate that art in Pakistan really is alive and well. The artists serve as exhibits themselves, stars of the unusual, the vaguely risqué with assumptions of torrid lives lived in a heady whirl of parties and social gatherings where cultural norms are gaily tossed from any available window.




So Amina Ansari - dubbed not so long ago as an 'enfant terrible' – has hammered out a place for herself, upset a few people here and there and will probably continue to do so in the foreseeable future.

Amina has re-written the playbook on portraiture in Pakistan. Her work is accessible but sly. It can slip a blade between the ribs like an assassin and she will be smiling as she skewers another – a working life littered with the bodies of subjects that never knew they were victims. Continue please!

Have something to add to the story? Share it in the comments below.