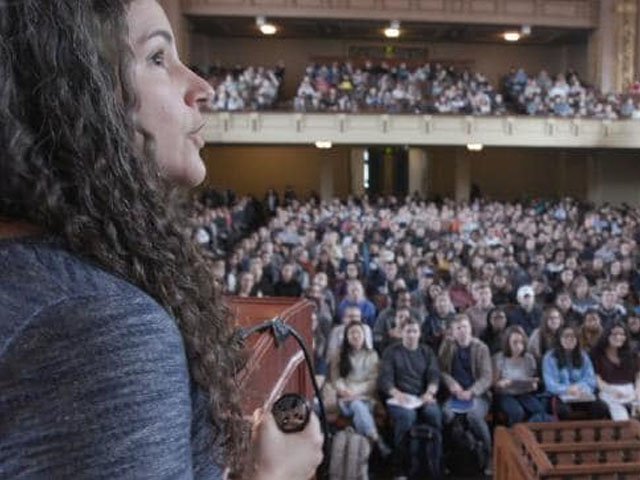 ---
Psychology professor at Yale University, Dr Laurie Santos revealed she had no idea that her Psychology and The Good Life (PSYC157) course would become a huge hit since it's launch earlier this year.

According to The New York Times, about 300 students had signed up for the course and within three days, the figure doubled. A few days later, about 1200 students had enrolled, making up nearly one-fourth of Yale undergraduates.

Head of one of Yale's residential colleges, Santos tries to teach students how to lead a happier and satisfying life - twice a week. "Students want to change and to be happier themselves. With one in four students taking PSYC157, if we see things like students showing more gratitude, procrastinating less, increasing social connections, we're seeding cultural change," Santos explained.

Santos speculated that the students are interested in the course because they had to deprioritise their happiness in high school for university admissions. This forced many students to adopt harmful habits that eventually leads to the mental health crisis that everyone is witnessing these days.


PHOTO: THE NEW YORK TIMES

Alannah Maynez, a 19-year-old freshman taking PSYC157, said, "In reality, a lot of us are anxious, stressed, unhappy and numb. The fact that a class like this has such large interest reveals how tired students are of numbing their emotions — both positive and negative."

Students had been requesting for a positive psychology course for a long time and when Santos proposed her idea, the director of undergraduate studies in psychology, Woo-Kyoung Ahn, was "blown away".

PSYC157 has now become Yale's most popular course in the university's 316-year history. Earlier, Psychology and the Law offered in 1992 saw about 1050 students.

Santos explained that PSYC157 focuses on positive psychology and behavioural change - which mainly comprises of characteristics that allows humans to flourish and how to live by various lessons in real life. As a part of the course, students are required to take quizzes, complete midterm exams and conduct a self-improvement project called Hack Yo'Self, as their final assessment.

Many students confessed that they see PSYC157 as an opportunity to relax. A 22-year-old senior enrolled in the class said, "Maybe I'll learn a few tricks to having a less stressful life."




However, Santos referred to her course as the "hardest class at Yale". But she has encourages students to take up the course on the basis that a high grade, prestigious internship and a good-paying job do not increase one's happiness.

The psychology professor explained, "10 years ago, scientists didn't realise that our intuitions about what makes us happy are totally wrong." She also mentioned that just like maths, learning how to be happy and content with yourself takes practice too.

However, Santos added that the course cannot be offered every year as it's not fair to take away students from other subjects. But the her seminar-style series on the course will be offered online, for free, on Coursera. She concluded, "We have this moment where we can make a difference - where students feel like they are part of a movement and fighting the good fight."

This article originally appeared in The New York Times.

Have something to add to the story? Share in the comments below.