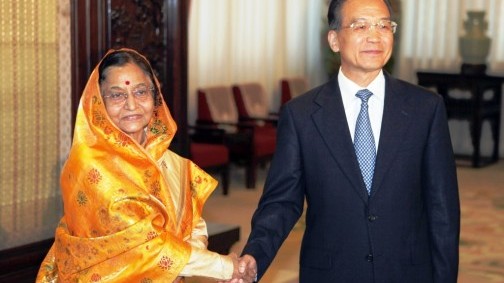 ---
Indian President Pratibha Patil met with Chinese leaders in Beijing on Thursday, seeking to soothe trade disputes and recent border tensions between the two neighbours.

Patil is the first Indian Head of State in a decade to visit her country's giant neighbour, an illustration of how ties remain cool almost 50 years after the countries fought a brief but bloody border war.

Patil met with Premier Wen Jiabao and President Hu Jintao after a grand welcoming ceremony in the Great Hall of the People.

Her six-day visit will also take her to the India pavilion at the World Expo in Shanghai and to the central city of Luoyang, where she will attend a temple ceremony commemorating the arrival of Buddhism from India 2,000 years ago.

Such activities mark a push to strengthen ties between the two beset by mutual suspicion and a sharpening rivalry over resources and global markets to fuel their surging economies.

The most glaring disagreement remains the remote, mountainous China-India border, over which the two fought gun battles in 1962.

The two lack even a commonly designated line of control, despite 13 rounds of settlement talks, and India recently beefed up its military presence along the frontier following accusations of increasing incursions by Chinese troops.

China, meanwhile, resents the presence in India of the self-declared Tibetan government-in-exile headed by the

Himalayan region's Buddhist leader, the Dalai Lama, who fled across the border during an abortive rising against

Chinese rule in 1959.

Beijing last year angrily protested a weeklong visit by the Dalai Lama to the northeastern Indian state of Arunachal Pradesh, which it claims is Chinese territory.

China, meanwhile, occupies a part of Kashmir claimed by India.

Despite disputes, the two found common cause at last year's climate change talks in Copenhagen, uniting to resist attempts by industrialised nations to reach a new legally binding treaty after two years of UN-sponsored negotiations.

They have also sought to cooperate in global finance and coordinate foreign policy independently of the West - with limited success thus far, as the two largest of the so-called BRIC nations, which also include Russia and Brazil.
COMMENTS
Comments are moderated and generally will be posted if they are on-topic and not abusive.
For more information, please see our Comments FAQ