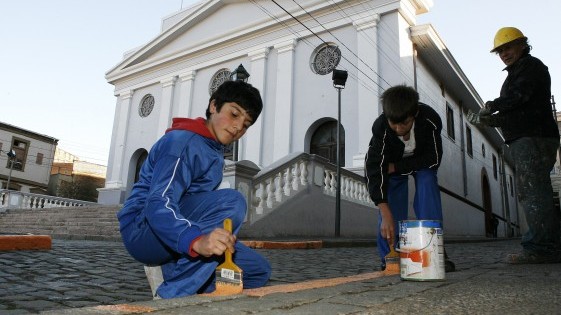 ---
A 7.2 earthquake struck off Vanuatu on Friday, seismologists said, sparking a tsunami warning which was later cancelled.

The quake hit at 4:14 am (1714 GMT Thursday) at a depth of 36 kilometres (22 miles), 214 kilometres northwest of Luganville, or 2,070 kilometres northeast of Brisbane, Australia, according to the US Geological Survey.

The Pacific Tsunami Warning Centre issued a tsunami warning for areas of the South Pacific including the Solomon Islands, Vanuatu and New Caledonia. Such warnings mean coastlines near the epicentre can be subject to tidal waves within minutes, but the alert was cancelled less than an hour and a half after the quake.

In the six hours after the initial tremor, five aftershocks measuring between 5.0 and 6.4 in magnitude shook the area. A spokeswoman for Vanuatu's National Disaster Management Office said later on Friday morning the office had not yet received any reports of major damage from the northern Torba province, which was closest to the quake's centre.

The Pacific Tsunami Warning Centre said there had been no indication of any tsunami activity generated by the quake. "If a tsunami was generated it does not pose a threat to any areas outside the epicentral region.

The tsunami warning is now cancelled for all areas covered by this centre." The New Zealand Ministry of Civil Defence issued a tsunami advisory warning people to stay away from the sea shore but it was withdrawn when it was established there was no risk to New Zealand.

In October last year, three major quakes with magnitudes of 7.8, 7.7 and 7.3 shook the same region of Vanuatu, sparking a South Pacific-wide tsunami alert.

Although no damage was reported, October's warning caused widespread panic throughout region, coming little more than a week after a tsunami devastated parts of Samoa, American Samoa and northern Tonga, killing 186 people.
COMMENTS
Comments are moderated and generally will be posted if they are on-topic and not abusive.
For more information, please see our Comments FAQ