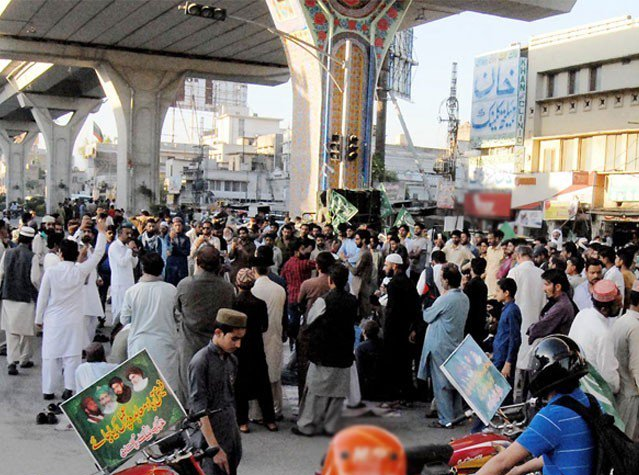 ---
Tehreek-e-Labbaik Pakistan (TLP) on Thursday called off its agitation across Lahore and other cities following the successful conclusion of talks with the government.

Negotiations tasted success, Express News reported. All six TLP demands have been accepted. A case on the killing of party workers during the Faizabad sit-in has also been registered.

TLP leader Pir Afzal Qadri called off the protests while speaking to journalists at Data Darbar following the conclusion of negotiations with a government delegation. The talks, which lasted for hours, concluded at 11pm.

"The government had been procrastinating over the issue for long," he said. Qadri said party leaders had not vacated the stage for even a second over the agitation. He added the government had been wrong in assuming that the TLP was incapable of mounting a sustained protest and mustering support.

Qadri said much of the nation had been left paralysed following the TLP announcement of an agitation. He said the government had surrendered and the party had acquired the Raja Zafarul Haq report.




Tehreek-e-Labaik protest turns Lahore into a no-go area

He added that the government had permitted them to use loudspeakers for Azan. Qadri said Punjab Law Minister Rana Sanaullah would meet TLP leaders to present an explanation. "We will implement the decisions taken by our leadership" Qadri vowed, saying the protests would have spread nationwide had the government not arrived on the negotiating table. TLP supremo Allama Khadim Hussain Rizvi also confirmed that the agitation had been called off.

Authorities removed containers placed on Kala Shah Kaku Interchange following the development. Demonstrators started leaving for home as traffic returned to normal. Barriers near Data Darbar were also removed  as the Babu Sabu Interchange, Lahore-Islamabad Motorway and GT Road were opened for traffic.

The near 11-day sit-in brought business activity and traffic in the area to a virtual halt. Increased traffic congestion also left the public fuming.